Winesi March has never seen his 18-month old grandson – he has only ever heard him cry. Prior to going blind from cataracts, Winesi was the breadwinner: his maize farm fed his family and kept his children in school. But as his cataracts developed, he had to rely on his wife and children for tasks as simple as bathing. He stopped growing his maize. He could no longer see the path to his farm.
Winesi's blindness and its impact on his household is part of a widespread and growing problem across developing countries. Four out of five blind people are needlessly blind, most of them live in developing countries, and the reason for their blindness is more often than not due to cataracts.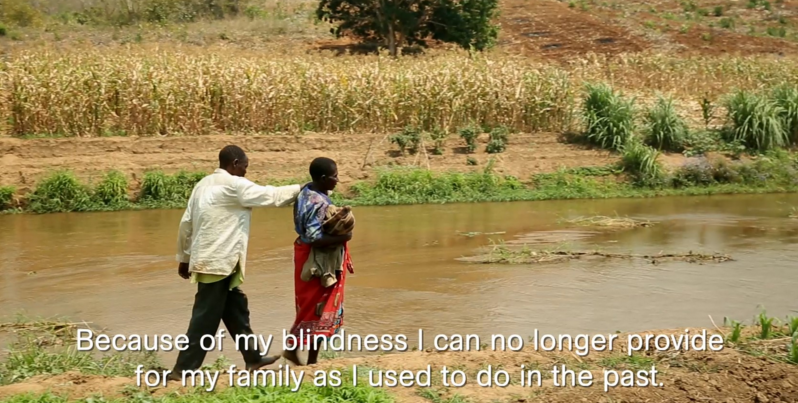 A broken financing model
Cataracts, the partial occlusion of the eye lens, affect both men and women, especially above 50. Untreated cataracts lead to blindness for millions of people in developing countries due to high cost of quality care and low cataract surgery capacity. Funding for eye health services makes up just a sliver of local and international health funding—in Cameroon, it is only a fraction of the 2% GDP spending on health. In Central Africa alone, our estimates show that 75,000 people suffer from cataract blindness and another 3 million are at risk, but there are only 122 active ophthalmologists in the region. Cataract surgery should be a relatively straightforward and cost-effective procedure, but public health systems are underfunded and service providers are constrained by scarce, competitive, and expensive financing.
The bottom line is, the financing model for eye health in developing countries is broken. And as a result, those who can least afford to are losing their sight.
Opening the eye health space to private investors
Innovators have found a way to ease this quintessential development problem. The Aravind Eye Hospital in India has pioneered and revolutionized an innovative and cost-effective approach to tackling cataracts in the developing world—a social enterprise model that delivers high-quality cataract surgeries for $40 each, half the cost of an annual Amazon Prime membership. Aravind hospitals gross over $10 million annually through 300,000 cataract surgeries, half of which are free or subsidized. This model proves that it is possible to provide sustainable, affordable quality cataract surgery at high volumes, with fees from those who can pay subsidizing treatment costs for those who cannot.
So what if we could replicate this model in Central Africa? Unfortunately hospitals looking to do so face a financing wall. A sub-specialty eye hospital in Cameroon that could perform 6,000 surgeries per year and build local capacity would cost about $13 million to build, equip, and staff before serving a single patient. The drip-drop of public finance is not going to cut it. Private investors find the prospect too risky. From the hospital's point of view, a debt investment would compromise financial sustainability and ability to scale while keeping costs low.
What we need is an entirely new financing model that brings private funders into the eye care space by sharing the risk across public and private partners. A third-party promise to pay for performance could be the key making this possible.
Introducing the Cataract Bond
A unique coalition of eye health NGOs (Fred Hollows Foundation, Sightsavers, and Africa Eye Foundation) worked together with Dalberg Capital to build a financing mechanism that will bring on new funders in eye care. The result is the Cameroon Cataract Performance Bond ("Cataract Bond"), which will help scale and replicate successful eye health delivery models in Cameroon and other vulnerable regions of the world.
The coalition's vision is twofold: 1. to help start and sustainable scale the first sub-specialty eye hospital in the CEMAC region for service delivery and capacity building; and 2. to demonstrate value-for-money through a financing model that can be replicated in other developing countries over the long-term. The Cataract Bond will provide the upfront funding needed to launch a hospital in Cameroon from private social impact investors. In return for sharing implementation risk with the hospital, outcome funders, philanthropic funders in the eye health sector, will reimburse investors based on the performance of the hospital. Investors make positive returns for restoring sight to the blind, and outcome funders gain more impact efficiency from their grant dollars. Together, both funding parties help build a sustainable, high-volume eye hospital in a region that would not otherwise have none.
The Cataract Bond is a pioneering step to providing sustainable and affordable eye care in sub-Saharan Africa. The Bond will help restore sight to people like Winesi who, upon seeing his grandchild for the first time after his cataract surgery, burst into tears of joy. Since his surgery, Winesi has been able to live an independent and vibrant life as part of his family and his community.
Watch the video of Winesi's journey and cataract surgery outcome:
For more information on the Cataract Bond, you can reach the Dalberg Capital team at info@dcapitalpartners.com.