Our team in India recently brought together key education leaders to discuss the sector in general — including the national education policy, EdTech, generative AI, innovative finance, and climate change.
India's education sector is one of the largest and most diverse in the world. It has committed stakeholders who are keen to innovate, with a vibrant EdTech space second only to the United States.
However, there are drawbacks. Nearly one in three schools lacks electricity access, for example. We wanted to hear more from the people who work closely on these issues, so we invited 30 education leaders from various non-profit organizations to Goa, on India's west coast.
Over two days of conversations, we explored five ingredients that could boost growth across the system.
1. Find mentors and partners within the sector
Some education leaders have decades of experience engaging with the public sector, others are seasoned in parent and teacher outreach. Combining strengths makes sense. For example, Anand Gopakumar, co-founder of The Apprentice Project (TAP), and Jairaj Bhattacharya, managing director of ConveGenius discussed how ConveGenius' Swiftchat.ai platform could partner with TAP to scale TAP's chatbot-based 21st-century skills program.
"One thing that I took away from these two days is that the issues that you are dealing with, the problems that you're trying to solve – There's someone within the group who has already solved it. Reach out. Ideate. You don't have to reinvent the wheel."
– Bimlesh Kumar | Reach to Teach 
2. Make space for 'proximate leaders' to rise to the boardroom
Community-based workers such as teachers and social workers are critical change agents. Training them to work with government stakeholders and funders allows them to share their views on organizational challenges as well as efforts to mobilize communities. Gayatri RP, chief executive officer at 321 Education Foundation, pointed out that these leaders do exist – but will remain at the margins without intentional support to advance them. 
"How many leaders with lived experience do we see in Indian organizations, whether national or international? Is there a space made for them in leadership? And if they come to the forefront, will they be able to solve for the needs of the community through their perspective?"
– Raju Kendre | Eklavya India Foundation
3. Apply frameworks to help understand education systems and intervene
Policies that appear infallible on paper run into implementation challenges when different stakeholders assume their roles. Dr. Parthajeet Das of Central Square Foundation shared his experience of working with the RISE framework, which helps link the actors and interactions to outcomes in the education system. The Authority-Acceptability-Ability framework could be used to find areas where the organization can add value.
"How do you find the 'space for change' as a systems actor? Authority Acceptance Ability. Sufficient levels of all three are necessary to create a large space for change."
– Dr. Parthajeet Das | Central Square Foundation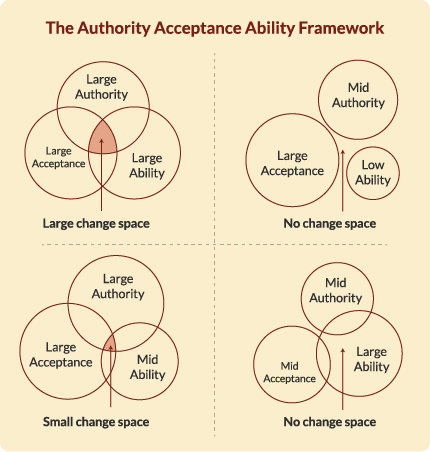 4. Make outcome-based financing available to smaller and diverse organizations
Funders and intermediaries should help promising organizations build the capacity and coalitions to measure and improve outcomes in new areas beyond academics (like socioemotional or 21st-century skills). Vaibhav Kumar, co-founder of SwaTaleem Foundation, shared an instance where several small organizations formed collectives with shared outcomes measurement efforts, and attracted funding.
"Over the past 50-60 years, the work in the education sector has been very input-focused e.g. focus on training teachers. In future, the money given by the governments and philanthropists will be outcome driven and this is going to question a lot of things happening in the education sector. More evidence will need to be generated to prove what works and what doesn't work."
– Ritesh Agarwal | Educational Initiatives
5. Develop the skill and will of key stakeholders to scale EdTech solutions
While more governments and schools are adopting EdTech, solutions are not applied evenly. Siddhant Sachdeva from Rocket Learning pointed out that the imperative of meeting the varied needs of students is understood, but teachers, principals, and parents from different walks of life require consideration as well. EdTech providers need to recognize these stakeholders — including government actors — as critical enablers and support them to advance these solutions through training, nudges, and recognition. 
"Products should take into account where the user lies in the digital literacy curve. For example, teachers in Delhi may be very comfortable with WhatsApp but teachers in some other areas may not even know how to form a WhatsApp group."
– Siddhant Sachdeva | Rocket Learning
One thing was clear during the retreat: it is important to keep the spirit of community alive. In the words of Labhya — co-founder Richa Gupta, we hope to build on these relationships and nurture our education community to be an "audacious safe space."
To support or collaborate with this community going forward, please contact Gagandeep Nanda, associate partner at Dalberg Advisors: gagandeep.nanda@dalberg.com.