We're sharing the latest on our journey to net zero, demonstrating both progress and key learnings since our 2020 climate commitment. From how we've aligned our targets with the latest climate science to how we've reduced and offset our emissions, below you'll find more information on how we're taking action on our internal impact on the environment.
Aligning Our Carbon Reduction Targets With the Latest Climate Science
We have since updated our original targets to better reflect the distinction between different scopes of emissions1 and to reflect the most current climate science. Our ambitious targets intentionally go beyond the minimum requirements and have now been approved by the Science Based Targets Initiative (SBTi).2
Dalberg commits to reduce absolute scope 1 and 2 GHG emissions 55% by 2026 from a 2019 base year. Dalberg also commits to reduce scope 3 GHG emissions 55% per unit of revenue within the same timeframe.
Dalberg commits to reduce per-person plastics footprint by 30% by 2026 from the firm's 2019 baseline.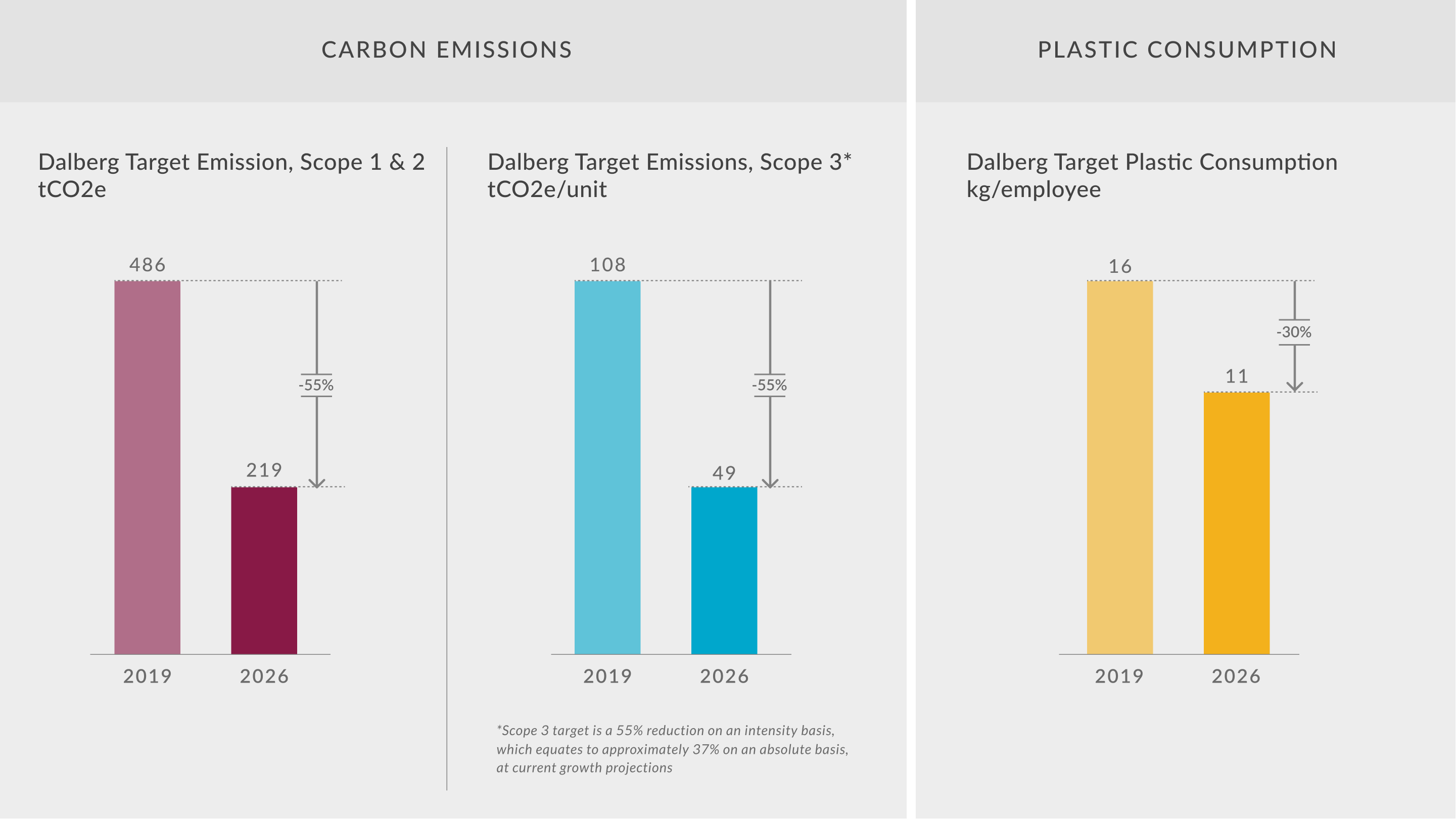 Expanding our scope of measurements
We began our carbon measurements and climate commitment in 2019, where our baseline emissions were calculated at 6,060 tonnes – 476 tCO2e for scope 1 and 2, and 5,583 tCO2e tonnes for scope 3. Our office plastic footprint baseline was calculated at 7,914 kg in 2019, or 15.7 kg per employee.
As the understanding of our emissions footprint has grown, we have expanded the scope of our measurements to align with the GHG protocol. This year, we expanded our carbon measurements to include upstream purchased goods and services, as well as our digital footprint, in order to better reflect a wider range of indirect emissions by the firm. This exercise added 2,532 tCO2e to our 2019 baseline.
Carbon and Plastic Reductions Progress
As of the end of 2021, both our carbon and plastic reductions are on track against our targets:
Our absolute Scope 1 and 2 GHG emissions have fallen by 39% to a total of 291 tCO2e, compared to a 2019 base year
Our Scope 3 GHG emissions have fallen by 42% to a total of 4,822 tCO2e, compared to a 2019 base year
Our office plastic footprint has fallen by 54% per-person to a total of 4,881 kg, compared to a 2019 base year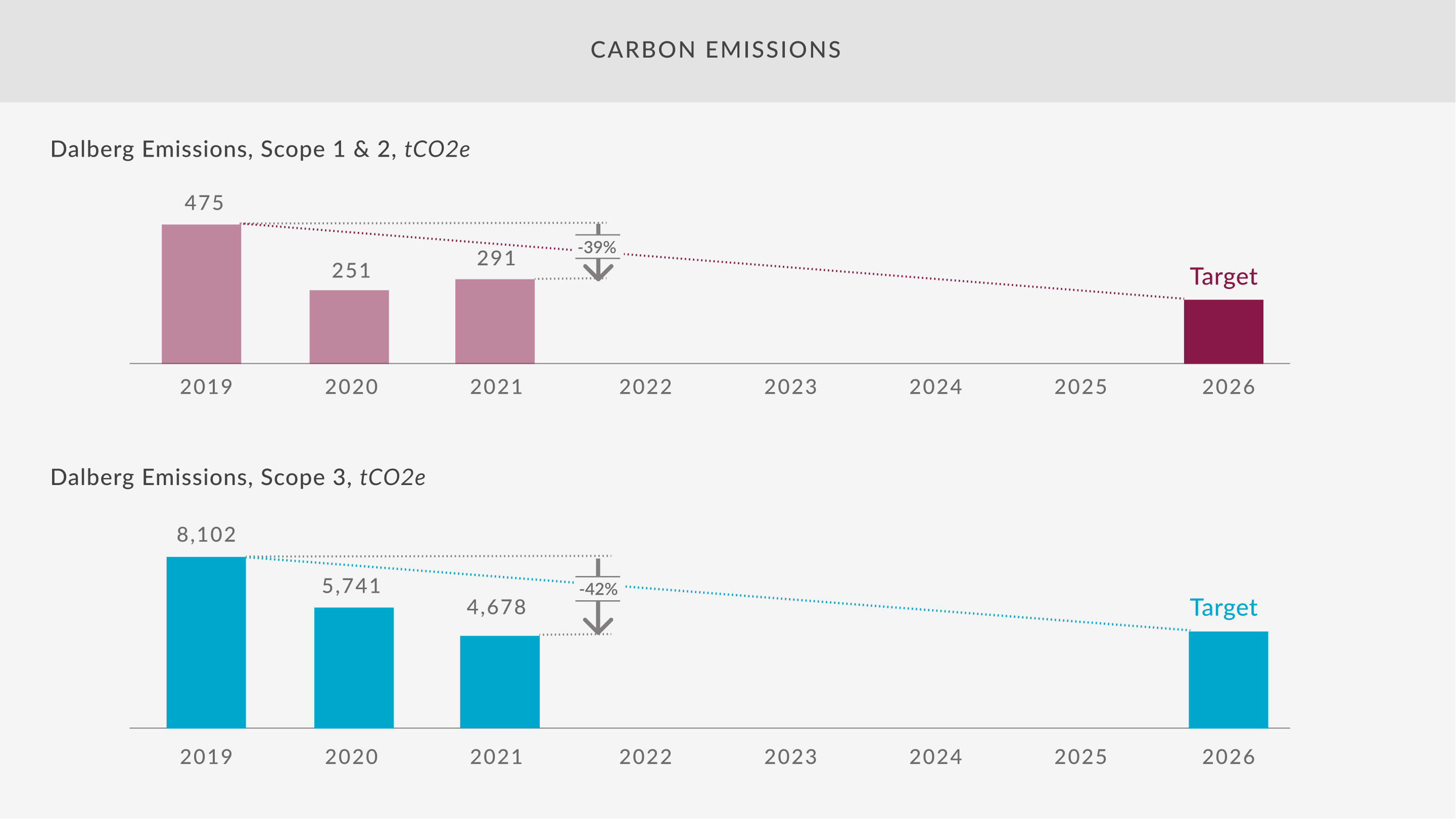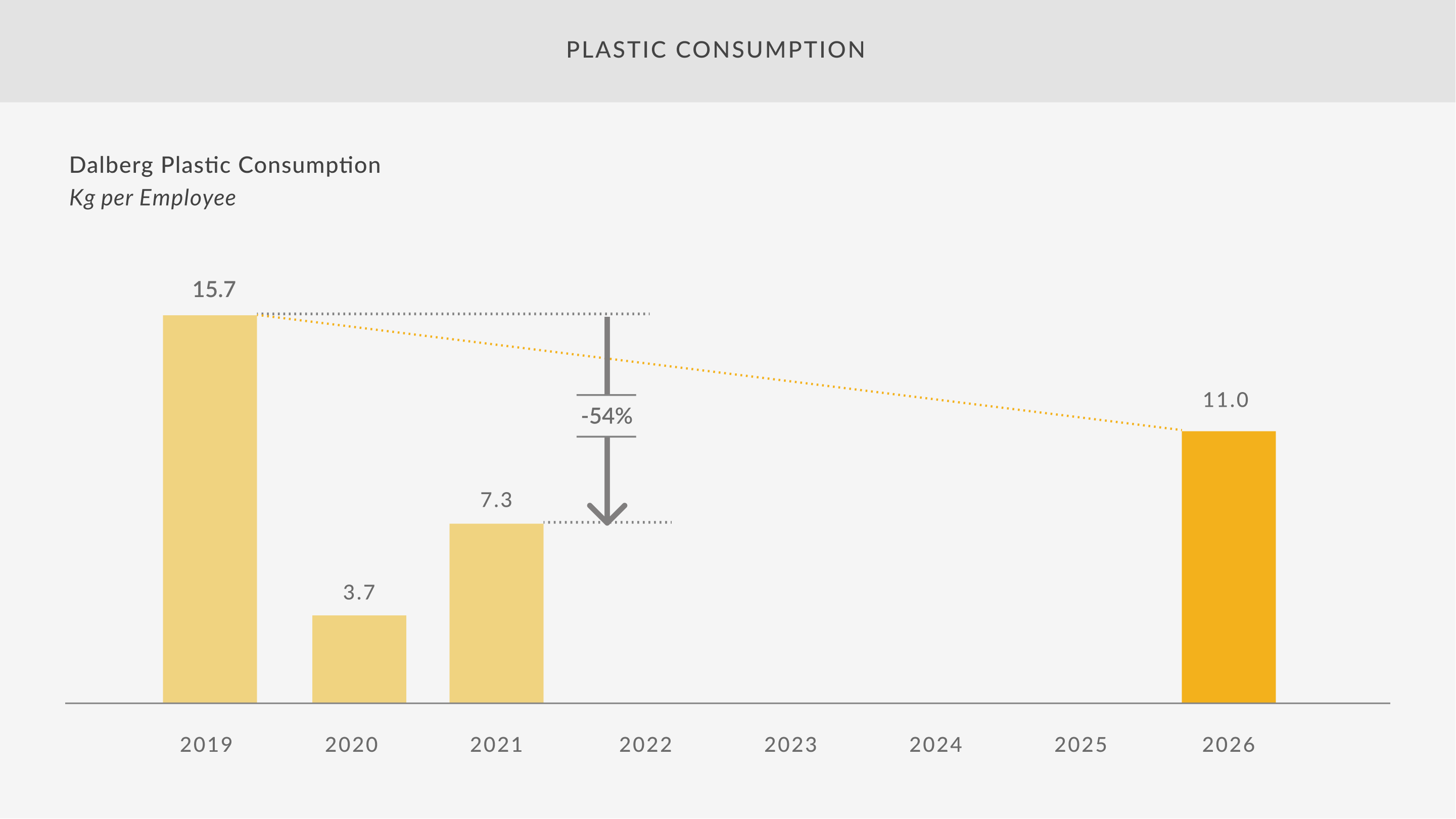 We recognize that many of the emission reductions we were able to make during 2020 and 2021 were due to unprecedented remote working because of the Covid-19 Pandemic.
Going forwards, Dalberg aims to demonstrate ways in which a global consulting company can maintain a reduced footprint whilst delivering excellent client service in a post pandemic world. This includes new, climate-focused strategies around work travel, hybrid work schedules, and other considerations.
Purchasing Carbon and Plastic Credits to Offset Where We Are Unable to Reduce
We have offset all of our 2021 carbon emissions and plastic use through the purchase of carbon and plastic credits. This year, we intentionally focused on purchasing directly from carbon credit projects to help us better understand the market, and to support innovative and local project developers.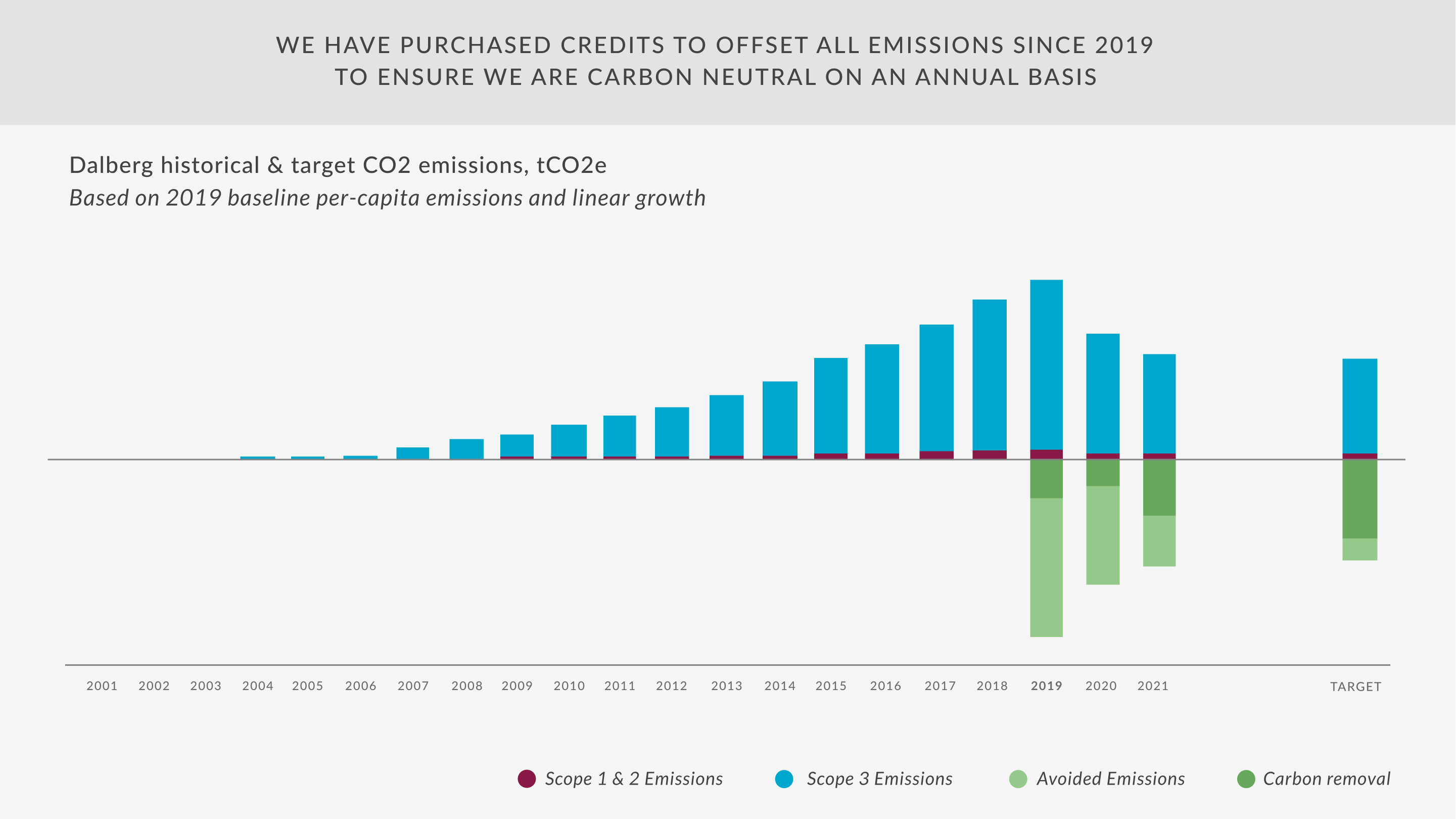 During 2021 we purchased additional carbon credits to cover the estimated emissions from 2019 and 2020 that were not included in our original calculations. As in previous years, we also purchased plastic credits to cover the personal plastic consumption of all our employees, at an estimated 47.8 tonnes.
Our carbon and plastic credits provide a critical income stream to high quality and verified projects, with a focus on natural climate solutions, community benefit, and carbon removals and sequestration. Our 2022 projects are shown in the map below.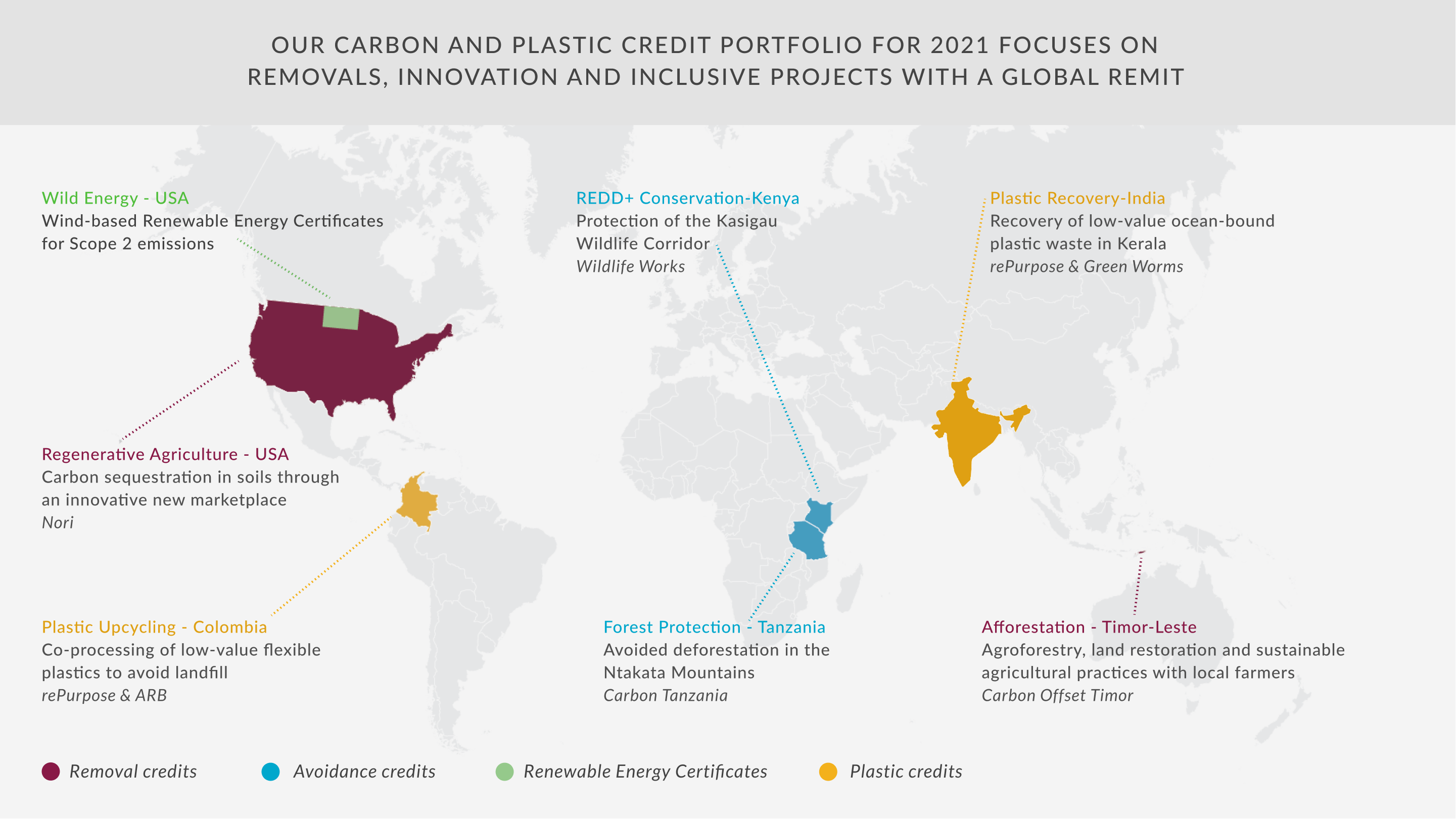 As we reach closer to our 2026 target date, we continue to update our footprint methodology and measurements, support our teams to enact carbon reductions, and select the highest quality credits to ensure that we maintain carbon and plastic neutrality and reach net zero as a firm.
1

Dalberg uses the Greenhouse Gas Protocol framework to calculate emissions. The GHG protocol is the global standard framework for measuring and managing emissions. Scope 1: direct emissions from owned or controlled sources (e.g., gas, heating). Scope 2: indirect emissions from the generation of purchased energy (e.g., electricity). Scope 3: other indirect emissions across value chain of the reporting company, including upstream & downstream emissions (e.g., flights, commutes, materials, water, waste)

2

Applies to carbon reduction targets only