Usage of mobile money has exploded across Africa during the Covid-19 crisis. At first blush, this is good news given that the past decade has shown that providing access to mobile money accounts is one of the most impactful ways of using financial inclusion to lift women and other marginalized groups out of poverty in Africa. Without the requirement to open physical branches like a bank, mobile money operators can provide access to financial services through wide-ranging agent networks, which in turn can provide easy access to low-cost accounts for those who currently don't have access to any financial services. This can lead to a range of follow-on impacts, including increased use of formal healthcare in communities which have higher mobile money uptake.
At the same time, mobile money accounts alone do not provide the financially vulnerable with the full range of products and services they need to live financially healthy lives. Most notably, individuals with mobile money accounts often cannot open a savings account with interest or make payments without incurring onerous service fees. The reasons for these differences stem mostly from different licensing and regulatory requirements for Electronic Money Issuers (EMI) and conventional banks, and relatedly, the lack of collaboration between these sectors and the central government.
With these structural challenges in mind, the Bill and Melinda Gates Foundation, with support from Dalberg and Rockefeller Philanthropy Advisors, supported the incubation and launch of AfricaNenda, an organization which advocates for, and provides technical assistance to, institutions building instant and more inclusive payment systems for mobile money. Among other areas of focus, its mission is to help build bridges between banks, EMIs, and the public sector institutions. Though the public and private sectors both have incentives to increase the breadth of what EMIs can provide, there are often bottlenecks which prevent these stakeholders from working together.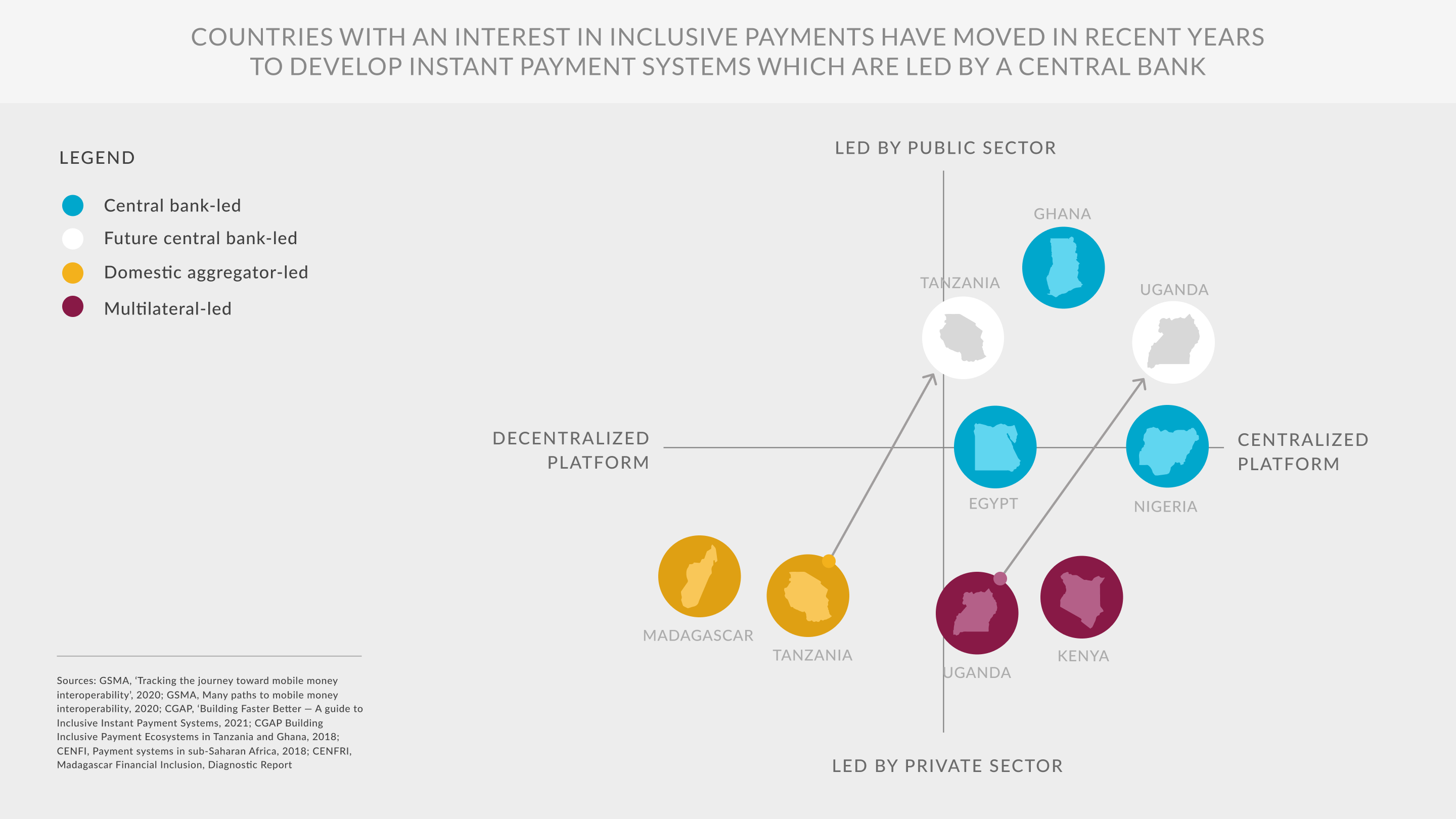 One of the first countries to push past these bottlenecks is Ghana, where the central bank has consolidated its payment system infrastructure so that banks, EMIs, and others all run their payments through a single, centralized instant and inclusive payment system (or IIPS for short). Since EMIs can now have their mobile money backed directly at the central bank, they are now able to offer their customers additional financial products and services — such as savings accounts with interest and costless payments. AfricaNenda and Dalberg found that these centrally-led payments systems have a high potential to provide a low barrier to entry for unbanked populations to access bank accounts.
In addition to technological integration, the development of systems such as that in Ghana requires smart regulation to ensure open access and fair competition between banks and EMIs, and thoughtful product design to meet the needs of consumers who may not have had previous access to financial services. AfricaNenda also plays a role in advocating for, and helping to design, the enabling environment necessary for these platforms to work throughout Africa.
To learn more, see AfricaNenda's inaugural report, 'The State of Instant Payments in Africa: Progress and Prospects' here.
Photo credit: Riaz Jahanpour for USAID Tanzania / Digital Development Communications