In 2019, a group of Dalberg staff interested in climate issues hosted an internal poll about attitudes toward climate change. We found that 98% of our colleagues wanted to see Dalberg take more action on climate. According to the recent Dasgupta Review, "Reversing [climate change and biodiversity loss] trends requires action now. To do so would… help us to achieve wider societal goals, including addressing climate change (itself a major driver of biodiversity loss) and alleviating poverty." 
As a firm dedicated to social impact, it was clear that we needed to do more to meet the global challenge of climate change and be part of the solution.
We launched our climate commitment one year ago, on Earth Day in 2020. We pledged our organization to five core commitments: (i) to measure and reduce our footprint, (ii) to offset our emissions, (iii) to take a climate lens across all of our work, (iv) to catalyze climate innovation, and (v) to build a climate coalition.
Our commitment also recognized that our journey towards becoming climate positive is rooted in continual learning and will evolve over time. A year later, we proudly share progress in our climate journey — specifically, where we have adapted our approach and what we have learnt in the process, in the hope that others can learn from our experience.
We've evolved our commitment as we moved beyond intention to implementation. Initially, our commitment talked about becoming 'carbon neutral,' but we have since updated our commitment as we have recognised the importance of meeting the goals of the Paris Climate Agreement.
We need to go beyond 'neutrality' to instead become 'net zero' to align ourselves with the agreement's 1.5 degrees pathway — we signed the UNGC business ambition for 1.5 degrees to reflect this.
We also recognize that increasing our climate action is not just about building one coalition — it's about building bridges across industries. We've updated our commitment to reflect this and now aim to support multiple climate coalitions.
'Net zero' means putting emission reductions and decarbonisation ahead of buying offsets.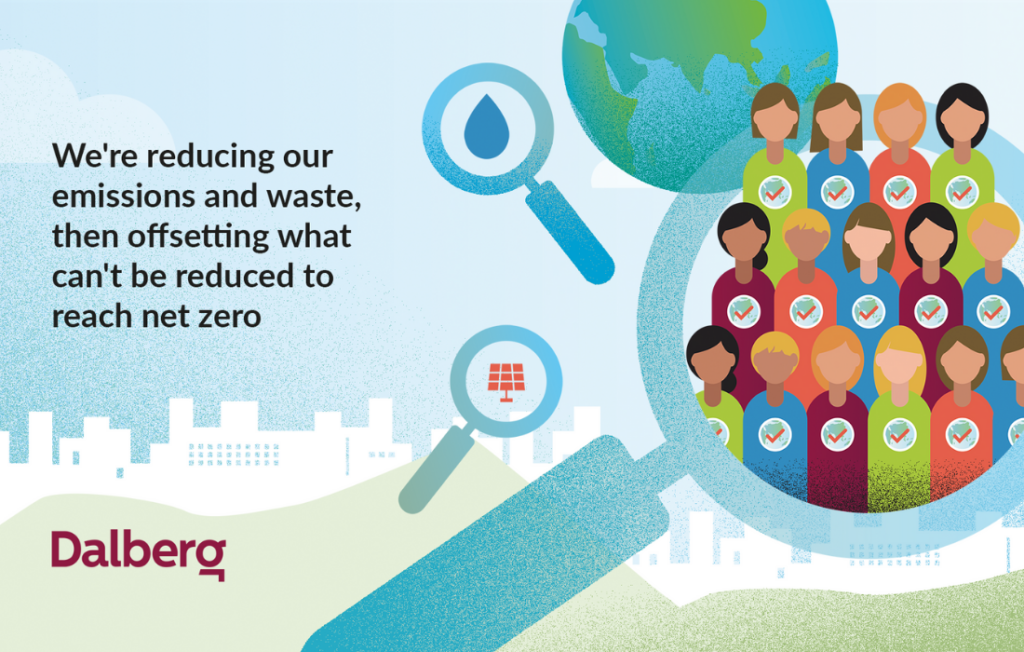 Early last year, we started to put in place the policies and plans to reduce our emissions and move towards our net-zero goal. As 76% of Dalberg's 2019 baseline emissions came from flights, and a further 10% from hotels,1 this is the area we needed to decarbonise first. We planned to launch a new company-wide travel policy in April 2020, but Covid-19 brought global travel to a halt.
Our travel emissions in 2020 fell to just 1,343 tons, down from 4,581 in 2019. The unprecedented impact of Covid-19 meant that we surpassed our target for a 55% in reduction in emissions 5 years early. However, we realize that these reductions cannot be maintained after the pandemic unless we help our teams become effective at working remotely, and reduce the need to travel accordingly.
Since the onset of the pandemic, we've pivoted our approach and supported the IT team to provide employees with better technology and connections that enable productive remote working. We continue to support the IT team and as travel picks back up, we'll also be implementing a new travel policy to help ensure employees only take flights when they need to.
We've also come to realize that a 'one size fits all' approach to decarbonization doesn't work. Dalberg's wide footprint across a diverse range of countries means that we need a different approach in each place. This became very apparent when looking to make reductions to our plastic footprint. For some of our offices, switching to recycled waste providers is simple — it's the standard option. However, elsewhere, for example, in Kigali, Rwanda, recycling providers don't yet operate in the city.
To help with the challenge presented across our many offices we created a network of office climate champions, led by a volunteer in each location. Each office champion is responsible for collecting the data for our footprint measurements in their office and leading the emissions reductions activities at a local level. 
By distributing our climate team across each Dalberg location, we have been able to harness the enthusiasm of our teams and ensure that our climate action is locally relevant.
Implementing our climate lens to embed climate considerations across our work is an ongoing process. We've conducted training in every Dalberg office and each new Dalberg project now goes through a climate launch process to identify the key areas of intersection and opportunity. Yet our clients come to us with complex global challenges that intersect multiple areas of the environment — emissions are one piece of the puzzle.
Incorporating mitigation and adaptation as part of our work needs to go hand-in-hand with how we also think about natural capital more broadly, including the biodiversity crisis and the value of ecosystems. Further, Dalberg is committed to also incorporating gender and racial justice lenses into our work, both of which intersect with climate lens considerations. As we expand our climate work, we continue to evolve our thinking and understanding around the compounding crises the world is facing — and how Dalberg can play a critical role in working with our clients to address these complex issues.
Maintaining a flexible approach and remaining open to new climate-related innovations has opened up unforeseen opportunities, even in a short period of time. We have invited new innovation partners to test their ideas with us. For example, Joro, a Dalberg-alumna founded personal carbon tracker, has been conducting beta-testing of new products with groups of Dalberg employees. We also shifted our carbon footprinting and offset portfolio to BeZero, a new start-up driving efficiency in the voluntary offset market via their ratings framework. Aligning ourselves and supporting new, disruptive climate-minded companies helps further our collective climate action and improves our approach in the process.
Aligning ourselves and supporting new, disruptive climate-minded companies helps further our collective climate action and improves our approach in the process.
Finally, securing leadership buy-in and support from Dalberg's partner group has been critical to our success. Partners across all Dalberg entities and regions have placed their full support behind the climate commitment, enabling the team to take action rapidly on our commitment. We now have a dedicated Global Climate Practice Manager and are modelling a new way of working within Dalberg as we work towards our ambitious targets.
We are proud of the progress we have made, but recognise the need to do more. We remain committed to learning and taking even more ambitious steps — and to sharing these lessons and our journey towards building a low-carbon and resilient future.
---
1 Dalberg's carbon footprint is measured across Scope 1 (direct emissions from owned or controlled sources), 2 (indirect emissions from the generation of purchased energy) and 3 (other indirect emissions across the value chain, including upstream & downstream emissions), to the best available internal data. We collect our data from a combination of expense records, utility bills from premises, staff surveys and realistic, conservative assumptions. Every year we are improving our processes to increase the accuracy of our footprint measurements. Our partners BeZero support with calculating our emissions footprint from this data.