Public health and government leaders are pressed to make unprecedented decisions at every turn in the fight against Covid-19. Yet informed decisions require access to the right data—which is often not available. A new toolkit from Dalberg Data Insights helps optimize existing data to aid leaders in making truly informed decisions.
As Covid-19 swept across the world, public health and government officials in every corner of the globe found themselves grappling with a similar challenge: lacking the data that would help them make truly informed decisions related to public health and socioeconomic well-being.
What leaders were asking for, but couldn't find, was high-quality, high-resolution data that could be applied to key questions, such as: Where is the disease likely to spread? Which communities are most vulnerable? Can propagation be limited by focusing on priority areas? When might we be able to lift shelter-in-place restrictions?
Looking to Data to Understand Mobility Trends
The key drivers of viral transmission—interpersonal proximity and human mobility—are well-established. Both variables are responsible for the virus' spread and the introduction of the disease into new locations.
However, the mobility patterns of people are not tracked in most places and not over time. Reliable, systematic, granular, and dynamic insights regarding travel and movement are often not available for health surveillance and intervention planning. Yet this is exactly the type of information that could be most useful to Ministries of Health and City Authorities, especially if it contains updated information with high geographic resolution on the spread of the virus.
Mobile technologies are primed to fulfill this need. As use of devices grows exponentially, telecom operators can passively collect broad sets of anonymized information about mobile phone users. When aggregated, this data can yield almost real-time insights on population movements with high geographic granularity.
A Public-Private Partnership
The Belgian government sought to integrate data more deeply into their decision making, and they mandated Dalberg Data Insights (DDI) to lead the data task force and focus on three key areas of concern related to the pandemic: monitoring the impact from mobility restrictions and lockdown, identifying risky geographies and informing targeted actions (e.g. confinement of specific municipalities or segments of populations), and uncovering anomalies amid concentration of populations in the fight against Covid-19.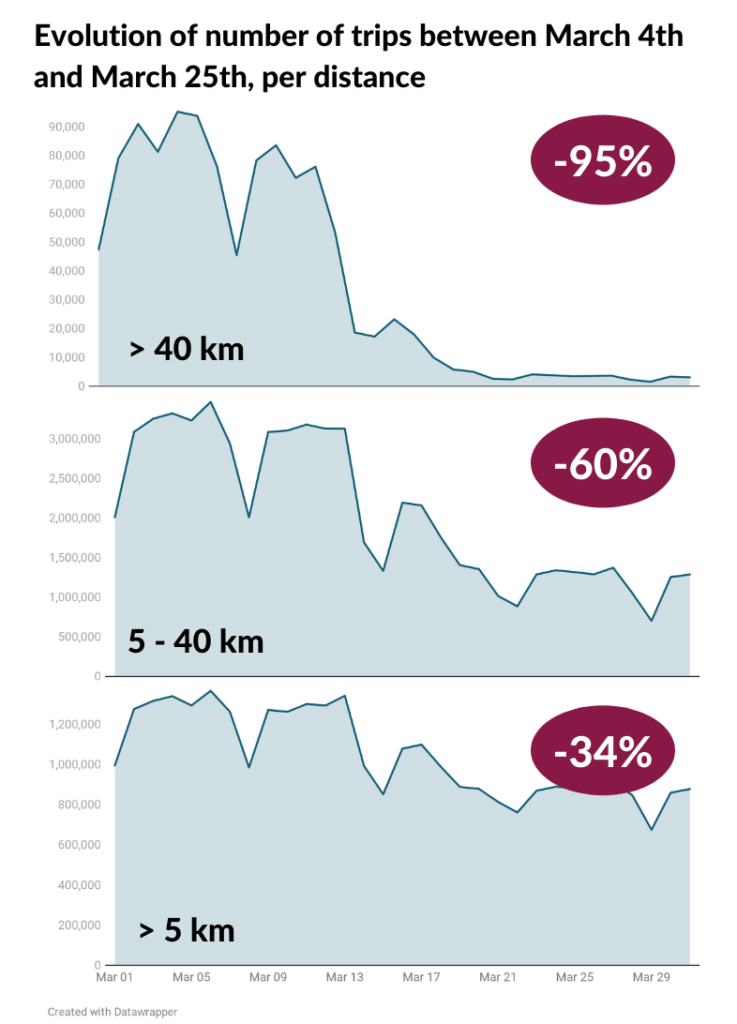 Together with the Belgian government and the country's three licensed telecommunication operators, Dalberg Data Insights developed the Data-Against-Covid19 Toolkit. The toolkit uses anonymised telecom data and localized incidence data—complemented with key modules such as governance and other regulatory elements—to monitor the impact of lockdown measures on population movements and assess health risk levels.
What makes this work unique is its use of non-traditional data sources (e.g. aggregated and anonymised telecom data) to provide otherwise unavailable data insights. The toolkit also covers the regulatory approach and governance needed to ensure GDPR compliance and operational efficiency and, ultimately, measurable impact. DDI set up an Ethics Committee and a series of steering committees to support the Prime Minister and the National Security Council.

Through their research, the Dalberg Data Insights team recognized that insights specifically into preventive actions, population mobility, the spread of the disease, and the resilience of people and systems to cope with the virus, can drive micro- and macro-level decision making by helping leaders respond more effectively to the global pandemic and limit its spread—and consequently, the number of deaths across the country.
Through its research and synthesis, DDI also identified four main challenges, and with it, a tailored approach to solve for each one:
Challenge 1: Lack of socioeconomic data and data on mobility

DDI's approach uses telecom data to compensate for the lack of data in terms of socio demographic and public health risk.
Challenge 2: Lack of public health data

DDI's approach utilizes other data sources to compensate for the lack of public health insights. For instance, the approach leverages telecom data and (eventually) socio demographic data to identify sources of risk (e.g. super-mobility) and assess the risk levels across a country with limited need for high quality health data.
Challenge 3: Often low digital literacy among public health officials

DDI's approach aims to prepare the health system for future pandemics and for overall digitization.
Challenge 4: Need for privacy

DDI's approach maintains individual privacy through GDPR compliant algorithms using telecom data to provide insights on population mobility.
DDI also shared learnings with the European Commission on the strategy to use mobile data to support other countries and the EU's response to the Covid-19 crisis.
Develop, Pilot, Iterate, Scale
DDI developed and piloted a prototype in Belgium, where it has since been mandated to directly support the government's pandemic decision making on a weekly basis. For instance, the data toolkit helped the Belgian government decide whether to relax or strengthen the lock-down of the country in mid-March 2020. Based on DDI's analysis, the Government decided to keep the lockdown as it was given that the analysis and toolkit showed existing measures had already provided a measurable impact on individual mobility patterns.
Dalberg Data Insight's unique approach has been instrumental at both a national and EU level. The EU Commissioner, Thierry Breton, has since asked all telecom operators across 27 countries to provide access to data and insights from their data on mobility and public health risk. What's more, there are intentions to scale this approach to other parts of the globe, including Uganda and Ghana, given its success in the first few months of the pandemic.
The Dalberg Group seeks to bring together communities of action, like public health, government and other industry leaders, that are positioned to make an outsized impact on the lives of people in the geographies and sectors they are operating in. Through comprehensive insights and unique data utilization from DDI, leaders in Belgium and beyond have the tools and analysis available to make informed public health and socioeconomic decisions amid such unprecedented times.