Two decades into a mission that has saved millions of lives by supporting immunization efforts in developing countries, Gavi, the Vaccine Alliance, is carving a path for countries to sustainably finance and manage their own health programs in the medium- to long-term.
Gavi is working in partnership with Dalberg in several countries to provide leadership, management and coordination support to ministries of health, as well as helping to set up units mandated to manage immunization program funding and other health funds.
The Gavi funding model works by sharing the cost of vaccines with beneficiary countries for a fixed period, gradually reducing support as economies grow. Gavi has helped finance life-saving vaccines and cash grants to build sustainable, quality, and equitable health systems that reach every child. The goal over time is for most countries to prepare for the leadership and funding of their own vaccine programs. After conducting a series of immunization program capacity assessments, joint appraisals and other discussions with countries over several years, Gavi and its Alliance partners, including the WHO and Unicef, identified the need to strengthen the governance and management of the immunization agenda at the country-level.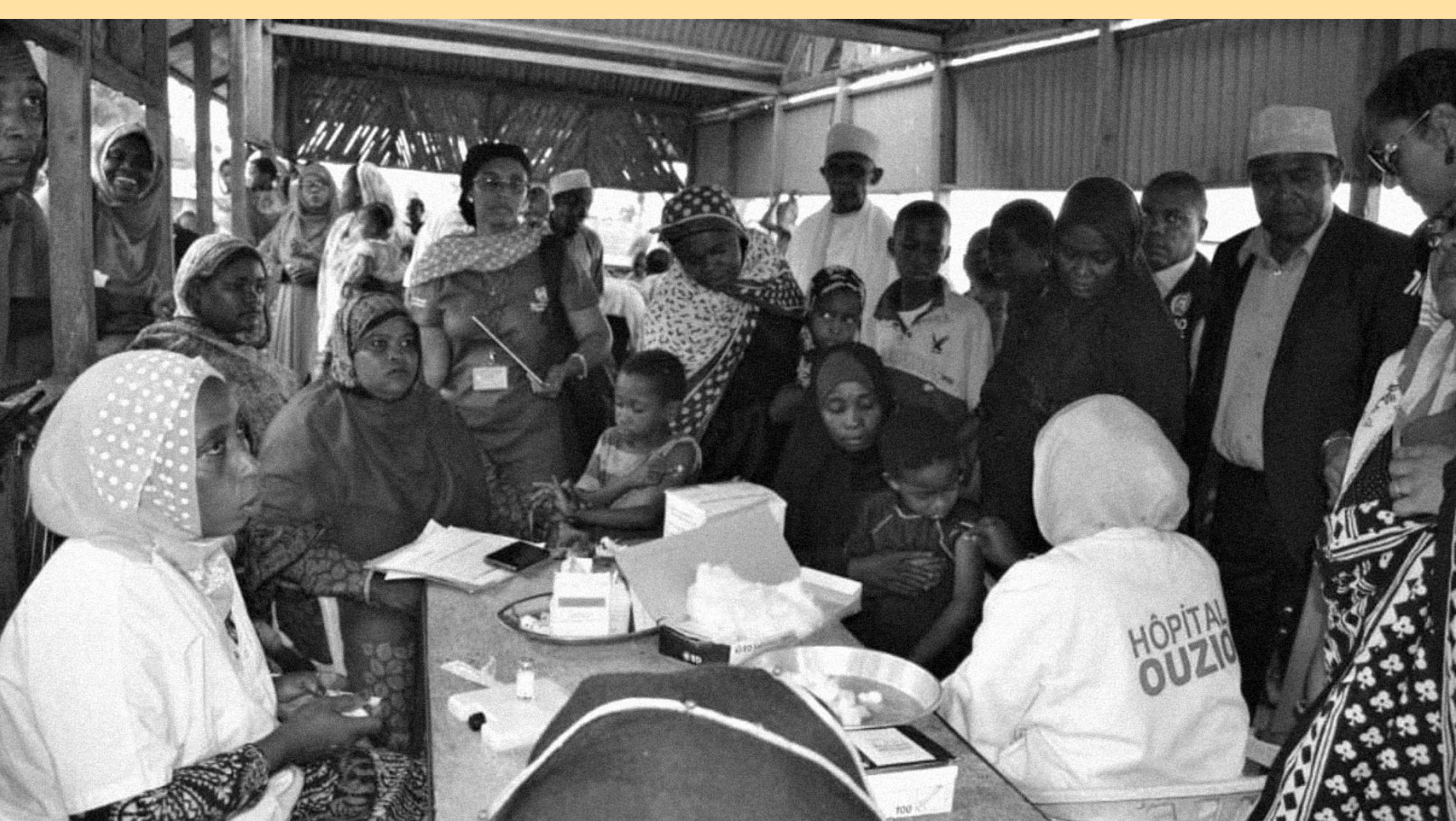 In 2016, Gavi began to invest more deliberately in strengthening in-country leadership, management and coordination (LMC). LMC has been identified as one of the key strategic focus areas most likely to contribute to sustainable improvements, and is an important part of a new approach set out by Gavi to strengthen immunization and health systems in order to reach children who have been missed.
The LMC framework has helped to coordinate all types of Gavi support – in some countries beyond immunization – and to plan for the longer term sustainability of support, helping drive more integrated grant planning and budgeting towards immunization. LMC has also initiated shifts in decision-making processes closer to countries.
For transitions from Gavi funding to be successful, countries must first demonstrate that their systems and decision-making processes are in place, along with the ability to independently sustain high immunization coverage and equal access to life-saving vaccines. Transitions have proved challenging for some countries, particularly with regard to financial management, governance and capacity building. Other countries are not yet in position to prepare for transitioning and can apply for Gavi support to steer their efforts.
A partnership with Dalberg since 2017 has helped provide support to prepare for transitions and develop financial and operational management systems for countries including Côte d'Ivoire, Guinea, Madagascar, and the Comoros. Dalberg has developed proven approaches to help governments develop country-specific plans and frameworks for managing and financing immunization programs.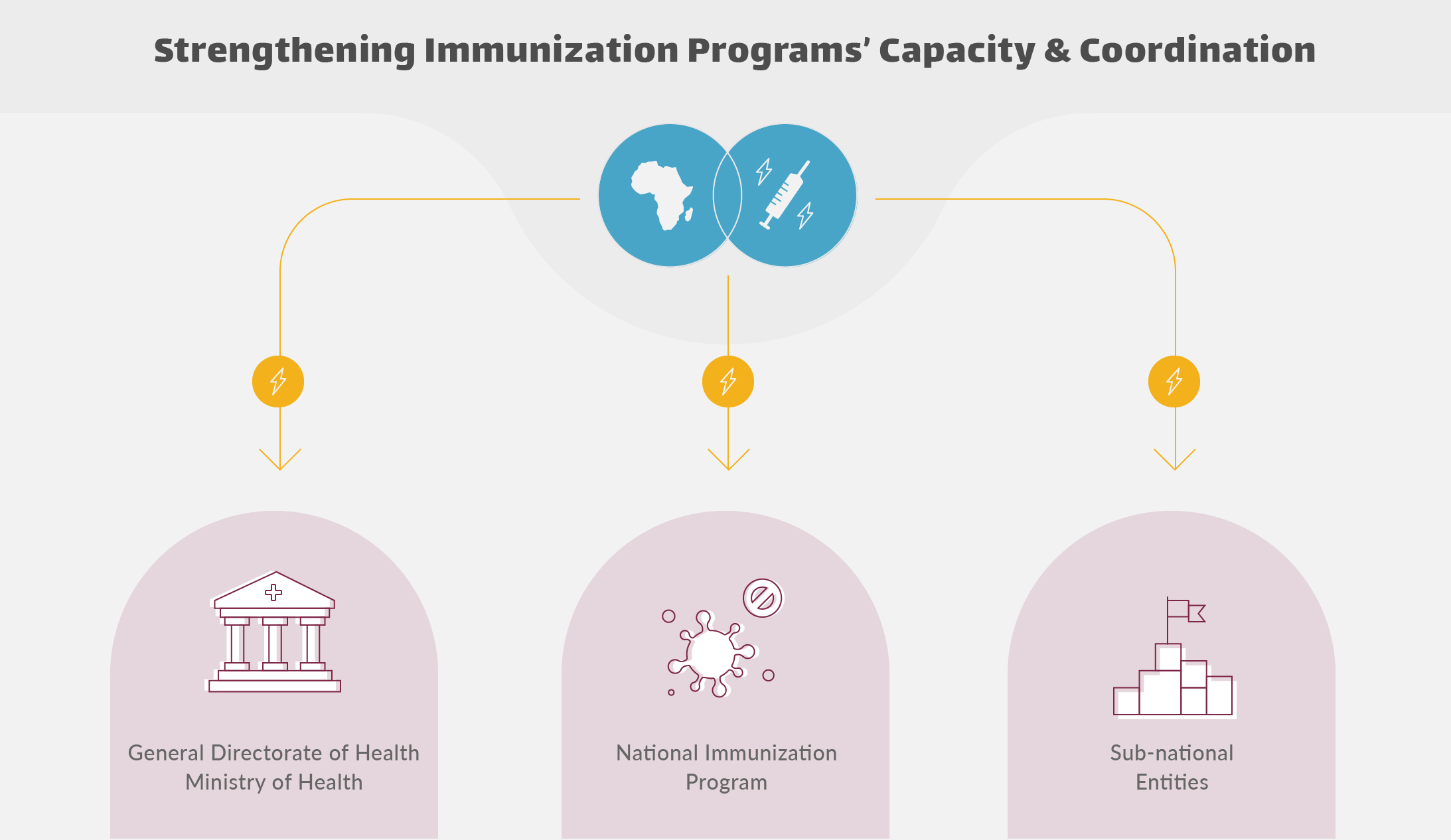 Using a systems-thinking approach, Dalberg's model seeks to strengthen capacity and coordination at three levels, namely: within the Ministry of Health, the Expanded Program on Immunization (EPI), and at sub-national level. In this way the capacity of individual health-program workers, institutions, and integration with the global health ecosystem of each country can be expanded. For health-program workers this is accomplished by increasing technical knowledge, leadership and management skills, while at the institutional level, Dalberg has set out to enhance strategic leadership, human resources management, processes, and procedures, and to develop high-level advocacy for political will.
Among solutions so far have been the establishment of dedicated units to manage vaccine programs, the steering of program development through a Dalberg consultant – a Management Partner – to strengthen management systems and reporting processes, and to help recruit and skill-up teams.
Beneficiary countries are seeking to overcome country-specific challenges and are at different stages in their journey towards creating sustainable immunization programs. The building of leadership, management and coordination skills, has given country-led immunization programs a path towards attaining sustainability, and may in time become models for other public health programs.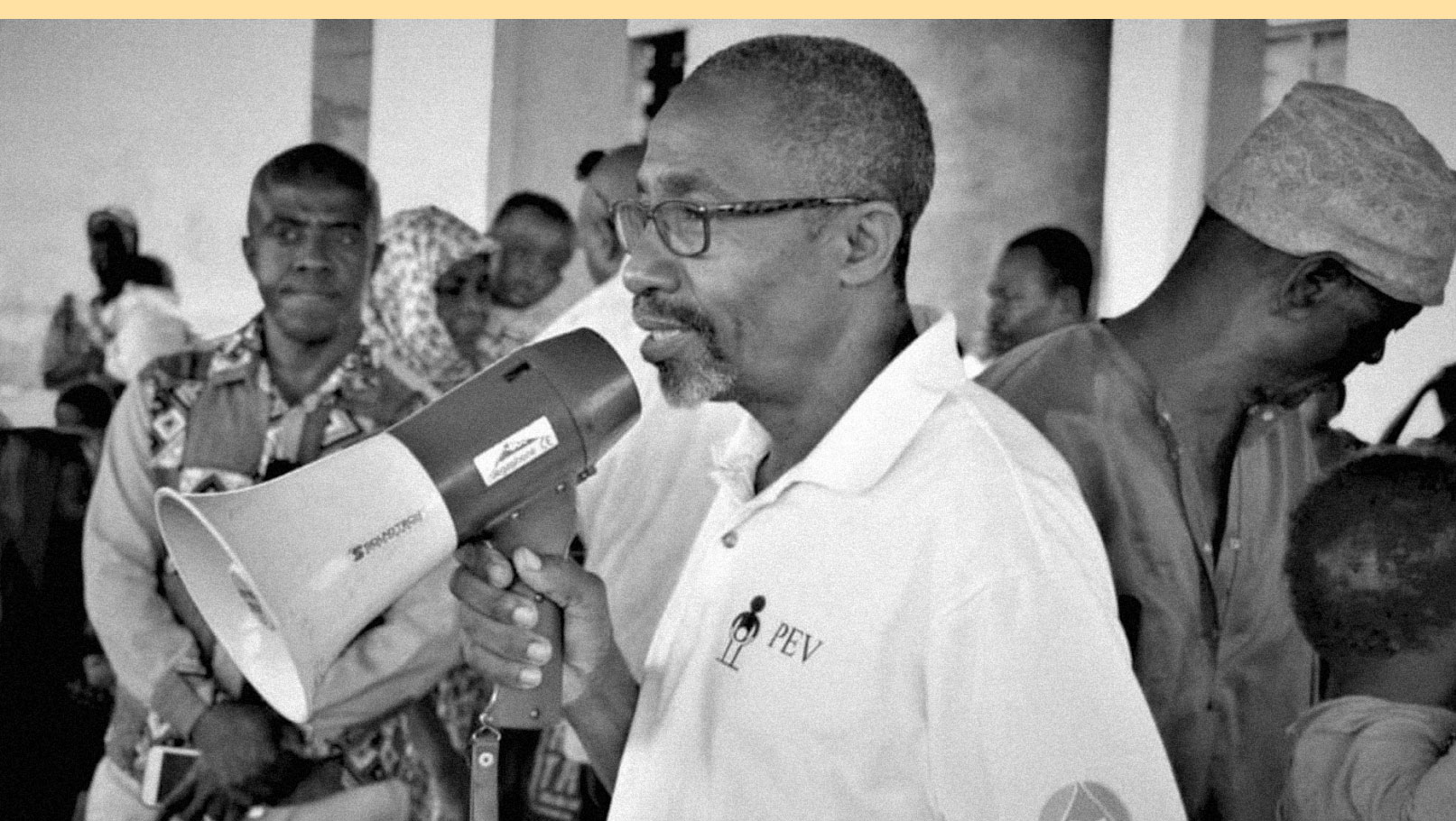 Côte d'Ivoire's plan for long term sustainability of its immunization program, and the wider opportunity to impact the well-being of citizens
In Côte d'Ivoire, Gavi's (LMC) Program in partnership with Dalberg is helping the government sustainably finance and manage its immunization program over the longer term. A pivotal pilot phase in 2020, that allowed for the transfer of grant fund management to the Côte d'Ivoire government, demonstrated its success as a government-led program, and its potential as a platform for other primary healthcare services.
In 2022, Côte d'Ivoire will enter a five-year transition phase from Gavi funding, where the Ministry of Health will gradually begin to lead and finance its own immunization programs. The government has worked closely with Gavi since 2001 to achieve their ambition to save lives from vaccine-preventable diseases.
Gavi's partnership with Dalberg supports their vision for Côte d'Ivoire's successful transition to financial and programmatic self-reliance. Dalberg was brought in after a series of capacity assessments and appraisals of the program in 2017 identified a range of challenges such as the lack of alignment of the country's financial management systems with those of donors and technical and financial partners. These assessments also highlighted the need to create a set of measures to strengthen management capacity and build donor confidence.
Addressing and overcoming the challenges
As a result of these findings, the government committed to establishing a transparent process for the management of donor funds, to regular monitoring, and to promoting efficiency. With Dalberg's support, this required creating procedure manuals on program coordination, and monitoring and learning across vertical health programs. Strong mechanisms were also developed to track progress and establish accountability of stakeholders, including the General Directorate of Health, the Financial Affairs Department, and the Financial Controller. For example, regular data-driven review meetings were set up with senior leadership of the Ministry of Health.
A new organizational structure is helping with better management of our health system and timely response to crisis.

Professor Mamadou Samba, Director General of Health of the
Ministry of Health and Public Hygiene, Côte d'Ivoire
With new structures and developments in place since 2018, Côte d'Ivoire's Ministry of Health has been able to embrace the accountability of financial management processes with a renewed sense of ownership and transparency. An organizational review and restructuring was conducted, and resulted in the establishment of a dedicated Program Management Unit for External Funding (UCP-FE), and the development of a new grant management system to engage the stakeholders responsible for program delivery. Training has been a priority, and the Ministry of Health increased efforts to provide regular quality training to UCP-FE staff in functions such as leadership, management, finance and IT. Expanded Program on Immunization (EPI) staff also participated in the training to enhance their understanding of financial management procedures.
"A total of 57 staff and EPI members were trained in 2020, and has resulted in increased capacity through better accounting practices, the use of new software, and the creation of a standard operating procedure with a culture of peer-to-peer learning. These steps account for improved management practices as the vaccination program moves towards sustainability," says Pascal Rigaldies, Gavi Senior Country Manager.
Results and next steps
With the UCP-FE established and a grant management mechanism in place, Côte d'Ivoire was able to reach a significant milestone in April 2020 when Gavi transferred flexible cash grants directly to the government on a pilot basis, allowing them to manage the emergency response to the Covid19 outbreak instead of passing cash grants through Alliance partners, as was the practice.
In the pilot phase, the Ministry of Health received US$6 million from Gavi to finance the operational costs of immunization efforts, with a further US$8 million expected in 2021. Despite the challenges of the COVID-19 pandemic, the Ministry of Health is on track to continue to strengthen the management and coordination of various partnerships, as evidenced in the management of the immediate response to the pandemic. One anticipated outcome is a more efficient allocation of resources in the future, with the ambition to more rapidly achieve the 95% coverage goal for immunization, compared to coverage in 2019 of 84%.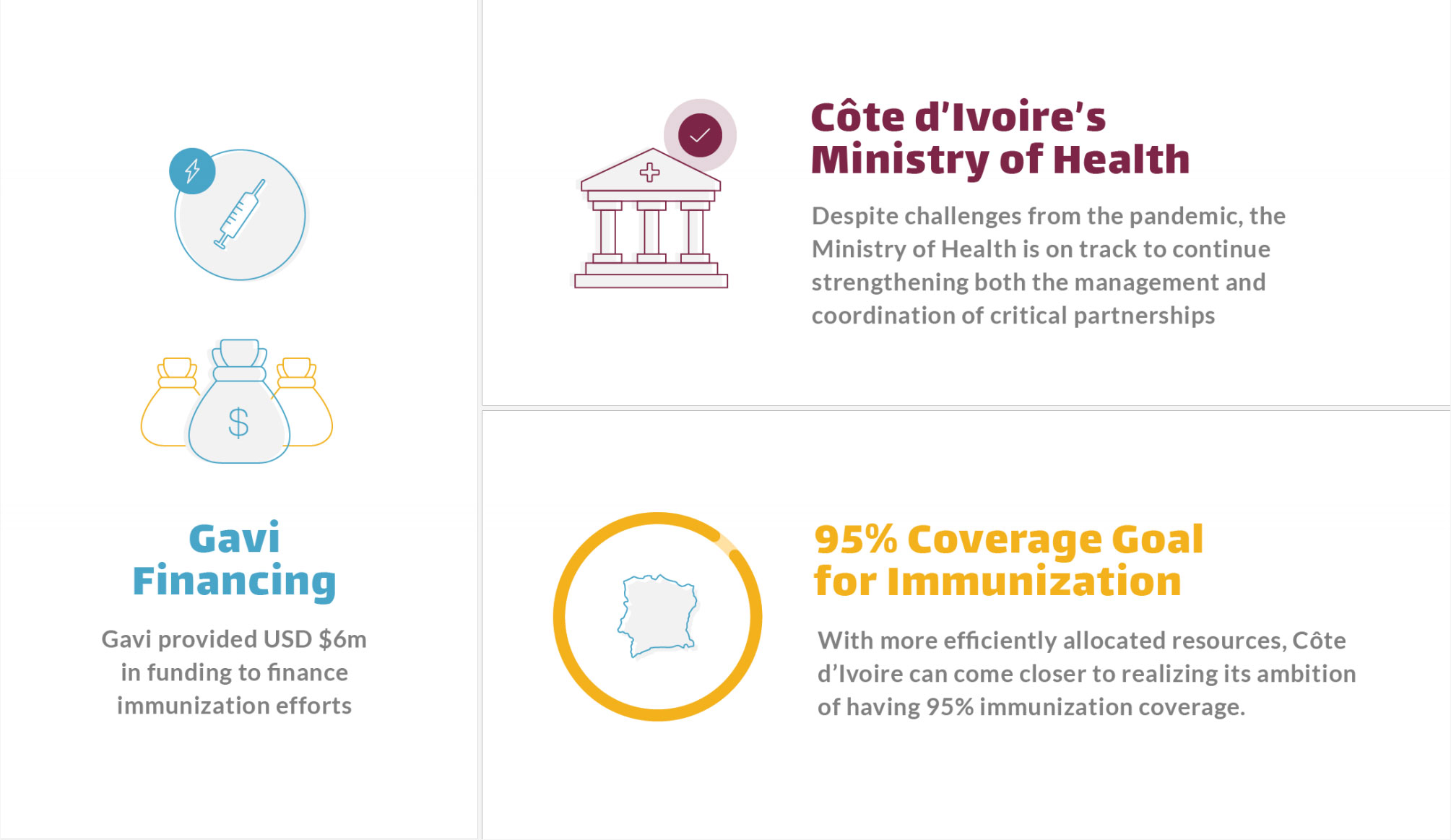 The transfer of funds management has truly been a game-changer in terms of ownership and leadership demonstrated by the staff of the Ministry of Health at the central and sub-national levels. The transfer of responsibilities will not only impact immunization programs but will also potentially benefit other health initiatives in Côte d'Ivoire, as a platform for delivering primary healthcare services, increasing the well-being of Côte d'Ivorian citizens for the future.
With catalytic support that strengthens the leadership and management skills of the Health Ministry and especially the EPI team, Côte d'Ivoire is also on track to gradually increase its national budget on immunization programs, and transition from Gavi's support over five years.
Guinea takes steps towards managing its own immunization programs
While Côte d'Ivoire has taken steps towards sustainability of its immunization program, a new plan for Guinea is helping set a course for the sustainable self-governance and management of its health programs. A major first step was to establish and recruit the team for a dedicated unit to manage and coordinate funds allocated by Gavi to immunization programs and create synergy between government and key funding partners, particularly Global Fund and World bank.
The dedicated unit, the Program Management Support and Coordination Unit (UAGCP), has enabled Guinea's Ministry of Health to accept direct access and control over program funding management, ensuring the proper application of regulations, and accounting and financial procedures for both national and international interests. The Gavi initiative in Guinea aims to strengthen the health system by creating synergies between the activities and funding of the various technical partners. The implementation of joint actions ensures a better visibility of all the field activities of the different health programs. This initiative also aims to restore the country's legitimacy in the management of external funds through ongoing support from technical and financial partners.
The creation of the UAGCP and the adhesion and active participation of financial partners such as the World Bank and the Global Fund are the result of a very strong involvement of the Ministry of Health teams and the Gavi Country Manager (communications efforts, weekly meetings, identification and resolution of problems). The implementation of monitoring and joint coordination processes between the various external partners and the Ministry of Health now allows for better financial management as well as an improvement in the EPI's programmatic capacities.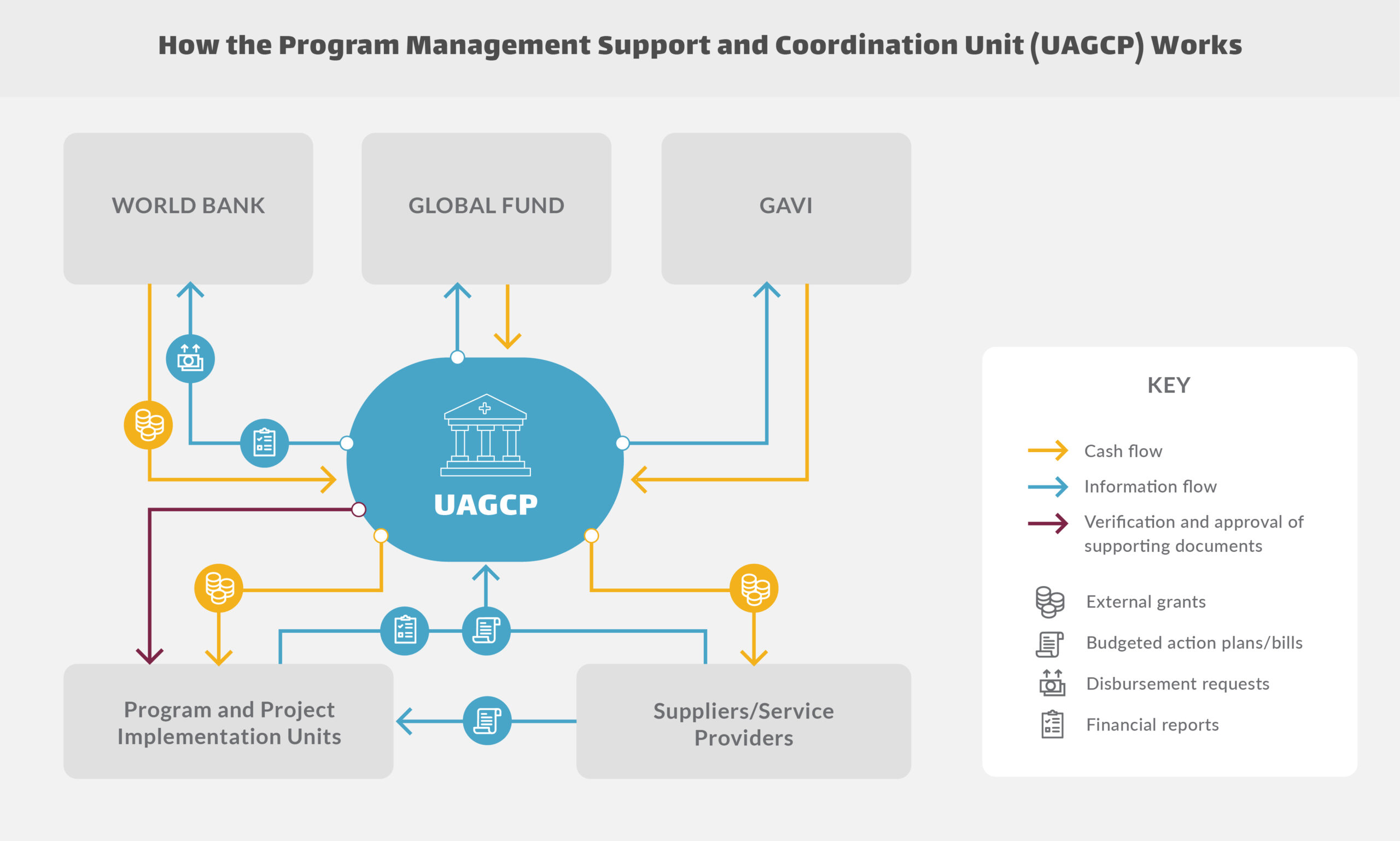 The UAGCP is charged with creating management mechanisms and synergy between the technical departments implementing health programs, which are financed by external funds, and the funding organizations themselves. These include the World Bank, the Global Fund and Gavi. Gavi began its partnership with Guinea in 2002 with the aim to protect the health of the country's population by ensuring equitable access to vaccines. By also focusing on building the country's capacity for leadership, management, and coordination, Guinea has been able to improve the financial management of its immunization and other health programs.
Laying the foundations for sustainability
For vaccination programs to be effectively run by individual countries, a robust and effective organizational framework must be in place to ensure transitions from Gavi's support are successful. In the case of Guinea, Gavi tasked Dalberg in 2018 to engage with technical support to the government to help establish and develop this framework, addressing the areas of immunization program leadership, management and coordination.
With a Dalberg management partner working in collaboration with the Ministry of Health, and in close consultation with Gavi, the Global Fund and World Bank, the UAGCP was set up in 2019 and officially launched in 2020. The UAGCP streamlines investments of external partners supporting the health system, while improving the complementarities and the capacity of the programs to manage and report on their achievements. Part of the role of the UAGCP is to create transparency on the National budget allocated to the respective health programs to prevent any duplication of activities funded by the external partners.
An open and transparent recruitment process enabled the hiring of a team already well equipped to conduct the UAGCP mission, and ensure the day-to-day functioning and evolution of a results-based culture that is steered by objectives, agreed working methods and tools.
"Clear objectives have been set for each staff member and a performance evaluation process has been put in place. National staff also benefit from ongoing training through the expertise and guidance of a fiscal agent," said Nene Barry, Management Partner at Dalberg.
For vaccination programs to be effectively run by individual countries, a robust and effective organizational framework must be in place.

Magdi Ibrahim, Gavi Country Manager
Next steps
Other steps so far for Guinea are essentially based on the appropriation of external financing management procedures at the decentralized level. The objective is to gradually reform disbursement procedures at the regional and health district levels while taking into account the realities and challenges encountered in the field. To this end, many activities are underway, including capacity building for managers in the health districts. All district agents will soon be equipped and trained in the standards and procedures for managing external financing.
Combined, the reforms undertaken by Guinea are bringing together the necessary framework for the country to manage all of its external financing autonomously and to organize a future transition out of the Gavi financing program.