The Government of Andhra Pradesh, India in partnership with Dalberg Advisors organised the "Happy Cities Summit: Amaravati 2018", a global summit on urban innovation in Amaravati, Andhra Pradesh, India, from 10-12 April. The summit was centered on the foundational principles of happy cities: 'Citizen-centric governance', 'Liveable Communities', 'Clean & Healthy Environment', and 'Vibrant Economies'.
The primary objectives of the summit were:
* To become the defining forum for discussing and sharing urban solutions and innovations particularly relevant for new and emerging cities in the developing world, centered around the principles of 'Happiness'.
* To become the platform for showcasing cutting-edge urban innovations that can be embedded in 21stcentury cities in India and globally.
* To provide opportunities for stakeholders to take away tangible and practical learnings and toolkits for implementation in their respective cities.
* To actively engage citizens in planning and designing their cities.
1,500+ attendees, including 120 delegates from 15+ countries (incl. Finland, Singapore, UK, Costa Rica, Colombia, Tanzania, US, Bhutan, UAE, Israel, Hong Kong, Bangladesh, Japan, etc.), 40+ speakers and city leaders, and 12 start-ups from 7 countries participated in the summit. The event brought together the greatest minds in the global urban landscape – thinkers, designers, planners, city leaders, industry and entrepreneurs – to discuss and share best practices, innovations, and ideas for Amaravati as well as other cities of the twenty-first century.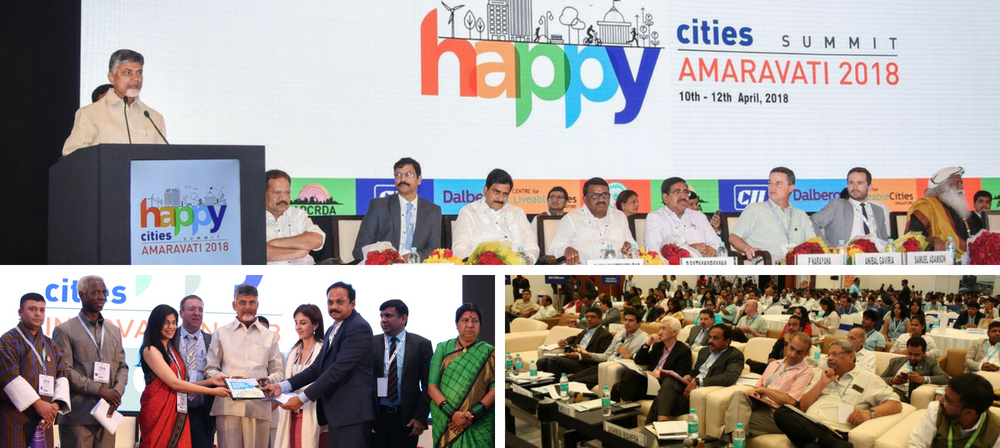 Over the course of three days, there were 7 enriching panel discussions on 'city happiness', liveability, citizen-centric governance, environment, economy, and measurement of happiness; and workshops on 'joyful learning, 'happiness measurement' and 'solving critical city challenges using design thinking'. Select speakers included: Jane Wiseman, Innovations in Government Fellow, Ash Center for Democratic Governance and Innovation, Harvard Kennedy School; Julie Rusk, Chief of Civic Wellbeing, Santa Monica; Anibal Gaviria, former Mayor of Medellin, Colombia; Edgar Mora, Mayor of Curridabat, Costa Rica; Peter Vesterbacka, founder of the Angry Birds franchise; Moitreyee Sinha, CEO, citiesRISE; and Ken Lee, Executive Director, Energy Policy Institute India, University of Chicago.
Dalberg also organized a pitch competition to identify cutting-edge urban innovations that can be embedded in Amaravati and emerging cities around the world to make them more 'happy' and liveable. We looked for solutions under three themes: Citizen-centric governance, Liveable communities, and Clean & healthy environment. 12 finalists from 7 countries were selected to present their solutions for a chance to win MoUs, cash prizes, funding, and acceleration support.
In addition, there was an exhibition that run through all the days of the summit, where leading industry players and start-ups showcased products and services across various facets of urban life, including mobility, governance, housing, waste management, clean energy, etc.
In the run-up to the summit, we conducted the 'Happy City Hackathon', a unique initiative where 50+ students from schools and colleges across the state submitted 21 ideas to make the Punnami Ghat (waterfront) near Amaravati an active, vibrant, and happy public space! They then brought the best ideas to life on 7 and 8 April with support from architects, landscapers, and planners. Their concepts centered around increasing engagement in purposeful activities and fostering honest conversations around happiness. Here is a glimpse from the Hackathon.
The outputs from the Summit were:
Launch of the 'HAPPY CITIES INNOVATION LAB' by the Govt. of Andhra Pradesh
A Think-Do-Enable Lab to make Amaravati one of the happiest cities in the world, and spread the 'happy cities' movement globally, especially in the developing world.
HAPPY CITIES DECLARATION: Amaravati 2018
Six mayors and thought leaders from around the world pledged their commitment to building 'happy cities'.
MoUs with Pitch Competition winners
The Andhra Pradesh Capital Regional Development Authority (APCRDA) signed MoUs with the winners of the pitch competition on urban innovation and intends to pilot the solutions in Amaravati/ other cities in the state.
Green Cities Platinum rating for Amaravati
Amaravati became the first greenfield city in the world to receive the Indian Green Building Council's platinum rating.
Release of Amaravati Happy City masterplan
Experts studied the world's most forward-thinking and best-planned cities along with Andhra Pradesh's unique needs and developed a socio-economic masterplan, laying out key elements of Amaravati's evolution and implications for building the new capital city.
Launch of Land Pooling Scheme (LPS) book
The Government of Andhra Pradesh implemented one of the largest and most successful land pooling schemes in the world, wherein 27,500 farmers voluntarily gave 33,500 acres to the government for building the capital city. This process has been documented in the book.
We are looking forward to a bigger second edition of the summit next year – and spreading the movement of 'happy cities' globally.
Download the summary of the event here.
For more information on the summit, contact: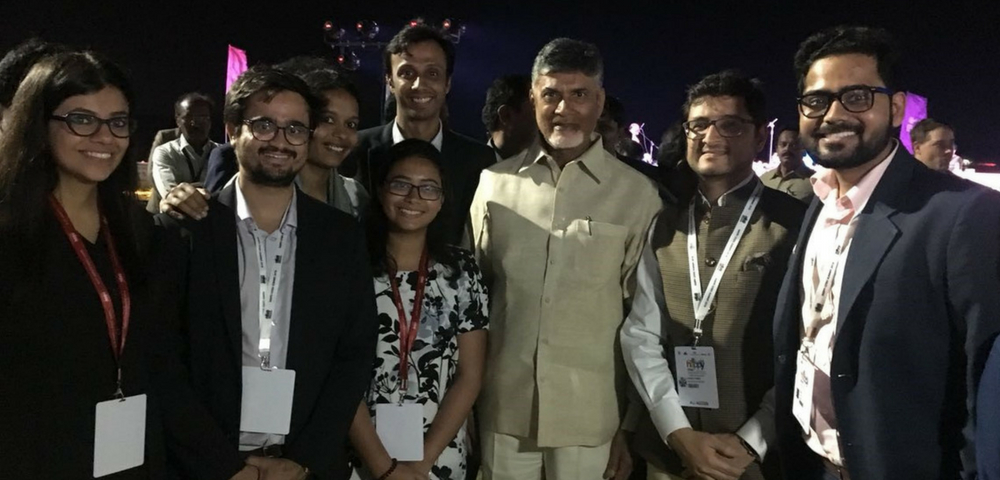 Dalberg team with Chandrababu Naidu, Chief Minister of Andhra Pradesh, India