The heads of the world's pre-eminent foundations came together in a webinar hosted by Dalberg and the Hong Kong Jockey Club Charities Trust. The topic: Philanthropic Leadership in the COVID-19 Crisis. Watch the highlights video, and see the three key lessons that emerged.
COVID-19 is posing new questions across sectors. The philanthropic sector is no different. In curating the Philanthropy for Better Cities Forum—a first of its kind international philanthropy forum focused on tackling metropolitan social issues—Dalberg and The Hong Kong Jockey Club became keenly aware of the uncertainty among philanthropies rapidly reshuffling priorities in light of the crisis.
With philanthropy at the fore of increasingly urgent discussions on COVID-19 funding as well shifts in business-as-usual across the social sector, The Hong Kong Jockey Club's Charities Trust and Dalberg joined forces to host a webinar for philanthropic leaders to share emerging lessons from this and prior crises. Speakers included leadership of several of the world's pre-eminent foundations.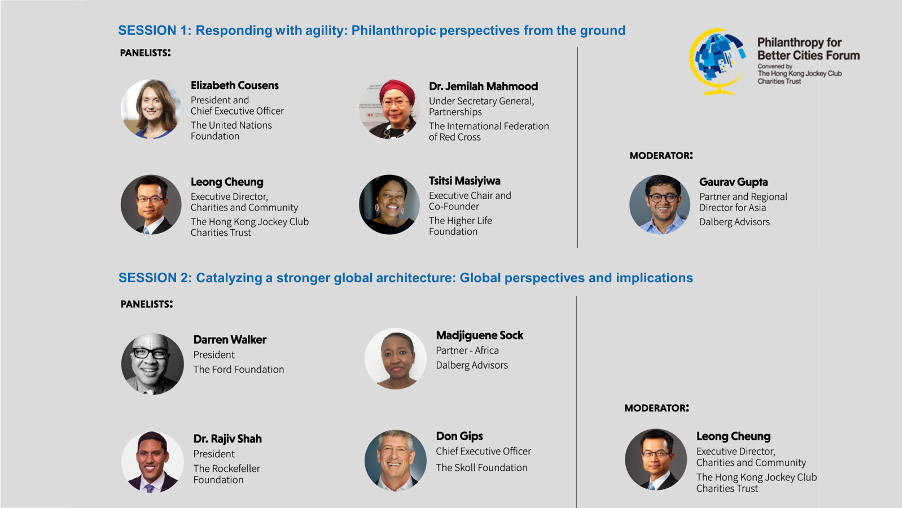 Garnering participation from nearly 500 attendees across the globe, of whom nearly half were C-suite level foundation leaders, the dialogue shed light on the need for flexible on-ground response, as well as global coordination and preparedness.
What we learned
Three key lessons emerged from the discussions:
Coordinate globally, act locally. As articulated by Elizabeth Cousens, President and CEO of UNF, "Global cooperation needs to be […] extremely responsive to and profoundly enabling of what needs to happen at the national, community and local levels." Dedicated attention to the crisis is necessary at all levels, including globally. But to respond efficiently and successfully, it is critical to decentralize and localize decision-making. Leaders emphasized channeling funding to local organizations quickly as well as investing in stronger global coordination mechanisms and institutions.
Let this crisis prepare you for the next. "I'd urge people to think of this not as one unique circumstance […] but a reality that pandemic health threats will be more frequent, and sometimes more serious," noted Rajiv Shah, President of the Rockefeller Foundation. The COVID-19 pandemic was predictable, and easily preventable. The crisis has revealed worrying gaps in the world's disaster preparedness, from inadequate health systems to systemic disparities that weaken vulnerable groups' resilience. Looking to the future, the panelists advocated for infrastructural investments in data analytics, institutions, and systems to address social inequity. Investments in community-level partnerships are also key undergirding future crisis response; as Leong Cheung, Executive Director, Charities and Community, Hong Kong Jockey Club, explains, "When the critical time comes, those are the relationships you can trust, and the partners that can [enable] a quick response."
The COVID-19 crisis is the time to step up, including for the long term. "This, at the end of the day, is about leadership," argued Darren Walker, President of the Ford Foundation, building on comments from Tsitsi Masiyiwa, Executive Chair of Higher Life Foundation that "What you do with your community [now] will have a long term impact in how impactful your work can be." Philanthropies are uniquely positioned to take action in crises given their ability to rapidly mobilize capital, connect with communities, anchor public-private collaboration, and take risks. In a call to action to peers across the philanthropy world, panelists emphasized pushing for greater unity in the polarized political climate, and building stronger institutions for the long term, to ensure the next pandemic does not take us by surprise.
Collaboration "wish lists" wrapped up the virtual convening, with attendees submitting ideas for resource and knowledge sharing, economic resilience-building, and solidarity with communities. The conversation on the role of philanthropy is sure to evolve as the crisis continues, but it is clear that partnerships will be key to the road ahead.
Responses drawn from webinar audience
Uncertainty and fundraising amid COVID-19 are prime concerns among philanthropies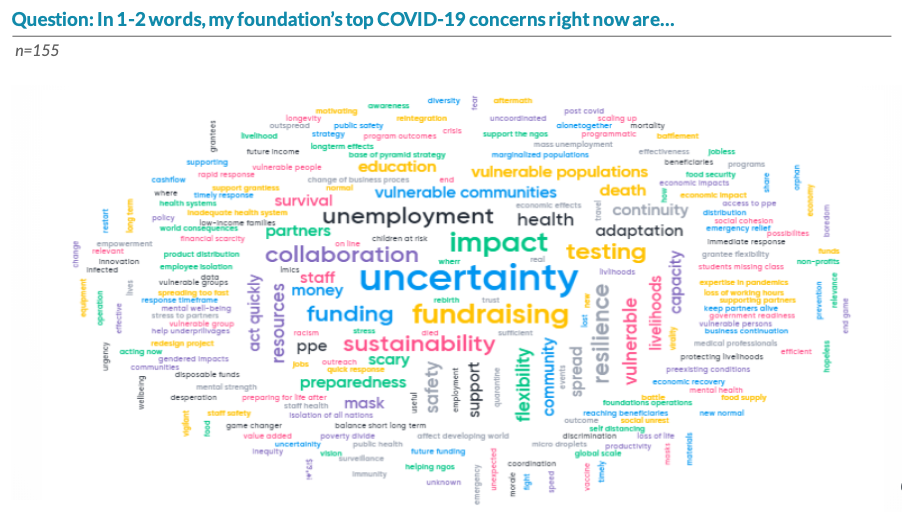 ---
Philanthropies pivoted quickly to allocate funding for COVID-19; Most expect to commit up to 30% of their giving this year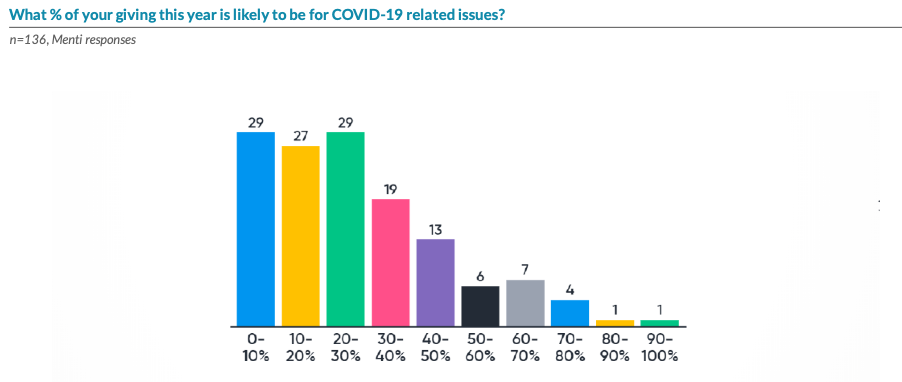 ---
While operational readiness and stress vary, the desire to collaborate was common across all participants