Of the 420 million youth aged 15 to 35 in Africa today, the majority are unemployed, discouraged, or marginally employed in informal sector, where jobs are typically less stable and have lower earnings potential. Women are particularly impacted, often facing even greater barriers to accessing opportunities: 35% of female youth are not in employment, education, or training (NEET), compared to only 20% of men.
Underemployed youth are spirited and hopeful, but increasingly discouraged and frustrated. The lack of formal job opportunities puts significant social, economic and emotional pressure on the millions of youth that enter the workforce each year in Africa and other emerging economies. Even when jobs are available, youth often do not have the skills required by employers – despite gains in education access over the past several decades. Women are particularly impacted, often facing even greater barriers to accessing opportunities and earning equal pay.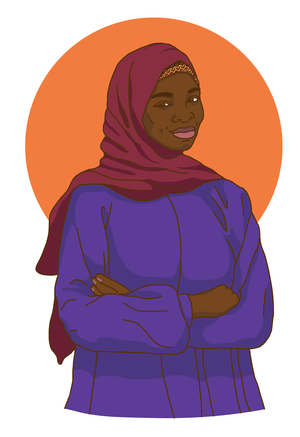 Meet Chidinma, 22, Nigeria. Chidinma is a relentless opportunist. She quit school when she was 17 because she was fed up with being looked down upon by teachers and being asked for bribes. She took a job in a small electrical workshop and over the course of a year learned the trade. She saved up enough money to launch her own workshop, which she hopes to eventually turn into a full-scale electronics retailer.
"Life serves up so many challenges, but luckily every day brings a new chance to get ahead. It's tough to juggle, but hard work is the only way to survive" – Chidinma, Lagos
To understand Chidinma's challenges and how we could help her, we mapped her life story, paying particular attention to the inflection points that represented lost opportunities. By conducting a similar mapping across diverse youth from Egypt, Cote d'Ivoire, Rwanda and Nigeria, we found patterns in mindsets that represent stages of the employment journey – from learning to experimentation to application to stability.Each journey represents a youth persona that has different needs and motivations across key decisions and defining moments over the years.

---
CHALLENGE #1
UNDEREMPLOYED YOUTH HAVE A WIDE RANGE OF UNMET NEEDS RELATED TO IMPROVING THEIR EDUCATION, FINDING EMPLOYMENT AND MANAGING CONCURRENT PERSONAL AND FAMILY ISSUES. AS A RESULT, COUNTRY-LEVEL EMPLOYMENT PROGRAMS STRUGGLE TO TARGET YOUTH APPROPRIATELY.
Things are always changing and we need to adapt to it. It is never stable. We have learned to live with inconsistencies in the system. Therefore, we have to have a plan, we must have patience and determination, but most importantly, we always have to have a plan B. – Adedayo, Nigeria
PROPOSED APPROACH
Behavioral Analysis and Persona Model of Youth Job Seekers: We conducted a beneficiary analysis of African youth ages 15-35 by running 12 workshops with over 200 youth across Egypt, Rwanda, Nigeria, and Cote d'Ivoire. Through the workshops, DIG engaged youth to examine and contextualize the needs and challenges they face navigating education and the job market. We challenged youth to reflect on their experiences and aspirations and to create supporting intervention concepts, which helped us define the opportunity space and inform program design options.
---
KEY FEATURES
Youth persona model tool: A tool to improve program design and deepen program engagement with youth. By listening to stories and ideas shared during the workshops, we developed a persona framework that segments youth based on needs, frustrations, attitudes and behaviors. We developed 5 personas, as well as 15 contextually specific sub-personas, that serve as a starting point for understanding youth in diverse contexts across Africa.
---
Market needs assessment: In the co-creation workshops, youth participants described key needs and pain points along their life journeys, providing direction to an early-stage opportunity assessment. We used this assessment to structure and map a portfolio of potential programmatic interventions that were directly inspired and shaped by youth themselves.
---
CHALLENGE #2
MANY UNDEREMPLOYED YOUTH HAVE SIGNIFICANT DISTRUST OF THE SYSTEM. THEY ARE SKEPTICAL AND CAUTIOUS ABOUT NEW GOVERNMENT PROGRAMS, NOT MATTER HOW WELL INTENTIONED THEY ARE.
Family and political connections are indispensable when looking for a job. Sexism, nepotism and corruption contribute to the growing distrust toward employers both in the public and private sectors and the job market in general. – Raissa, Cote d'Ivoire
PROPOSED APPROACH
Program design principles: Through a series of ideation and co-creation workshops, youth were prompted to generate concepts for new employment programs that targeted awareness and marketing, skills development, networking and job placement, and business incubation. These ideas were synthesized to define the opportunity space and inform program design for Egypt, Nigeria, Cote d'Ivoire, Rwanda.
---
KEY FEATURES
Capabilities analysis: Youth critiqued existing public/private youth training and employment initiatives, helping identify shortcomings in design and delivery, best practices, and core capacities within the ecosystem.
---
Design principles for program implementation and rollout: Youth-driven specifications for the most important design principles to guide program development and implementation. These include principles related to providing youth with choices and flexibility, building holistic programs, and aligning programs to job market demands.