Ready, Set, Launch aims to support strategic and targeted planning for the introduction and scale of global health innovations, with a sharp focus on employing methods that fit the local context of the communities in which we work.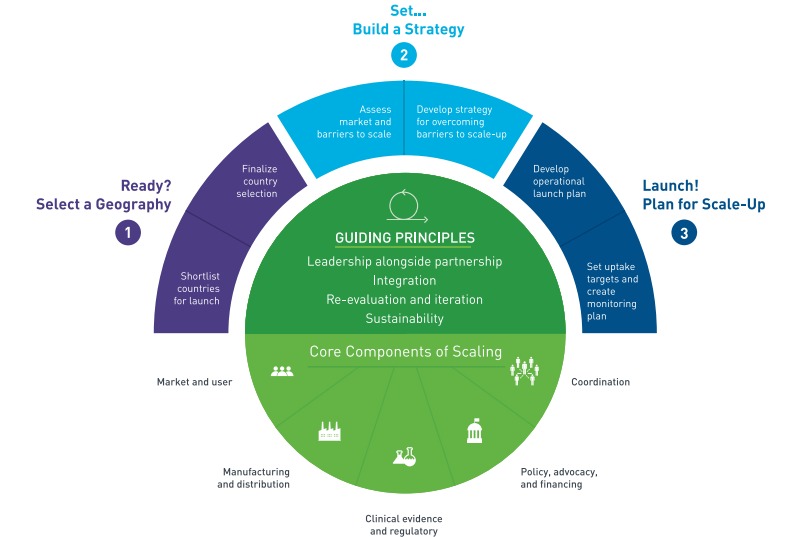 Global health practitioners know that introducing and scaling new innovations is a complex process. There is no shortage of factors to consider when developing a product and delivering it to the world's hardest to reach populations—from defining the problem and product requirements to evaluating market feasibility to developing and executing an operational launch plan. As a result, global health innovations often take decades to reach intended users at scale; at times, the innovation never reaches anywhere near global coverage targets (Figure 1). This is in contrast to "typical" launches in the United States and other high-income countries, which often reach their full coverage targets in less than five years.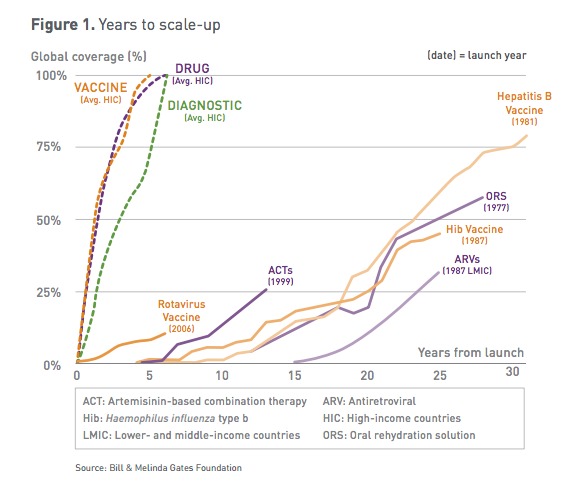 To accelerate the impact and scale of global health innovations, lessons can be learned from the principles that pharmaceutical and medical technology companies use to coordinate and plan for market introduction and expansion. USAID's Center for Accelerating Innovation and Impact (CII) developed the predecessor to this document, Idea to Impact: A Guide to Introduction and Scale of Global Health Innovations, with these principles of pharmaceutical and medical technology companies in mind. To support the product development process, Idea to Impact provides structure and practical tools from early product design through launch for those planning to reach global scale. Early-stage entrepreneurs, pharmaceutical and medical device companies, graduate students,NGOs, donors, implementing partners, and ministries of health alike have all seen the role that more deliberate and earlier delivery planning can play in accelerating the impact of life-saving innovations.
Achieving sustainable impact and scale, however, requires practitioners who think globally to act locally. This includes understanding and addressing the many country-level factors, including existing user behaviors, local regulatory requirements, supply chains, key opinion leaders, and local religious and cultural norms that can vary within a country, state, county, or village.
This complementary guide brings a sharp focus to the critical pivot from global product development to targeted country selection and launch planning. With input from a diverse set of practitioners and lessons gathered from both successful and not-so-successful launches, Ready, Set, Launch brings together guidance, tools, and case studies to support country prioritization and the development of a comprehensive scale-up strategy and launch plan. While there is no simple formula or one-size-fits-all solution, this Guide aims to provide practitioners with a set of key questions and a more systematic approach to launch and scale-up.