The burden of HIV/AIDS on women and girls in sub-Saharan Africa is well known. Young women between the ages of 10 and 24 years old are two times more likely to acquire HIV as young men of the same age and up to five times as likely in some segments. Gender inequalities, harmful gender norms, and age disparate relationships are key drivers of disproportionality of the epidemic and major barriers to achieving an AIDS-free generation. While there has (rightly) been significant investment in HIV programs to empower women and girls and address their vulnerabilities, there is a missing piece in the response to HIV globally: the considerable gaps in HIV education and services for men and boys.
Men are a critical link to unlocking better health outcomes overall and in the long term. Targeted support for HIV testing and treatment among men is a huge opportunity for design and impact on the pace of the epidemic. While there is pervasive education and information on some topics, such as VMMC, there are broad gaps in the engagement of males in general HIV and sexual and reproductive health (SRH) programming. As Sir Elton John shared regarding the launch of the MenStar Coalition, a new $1.2 billion coalition focused on HIV prevention and treatment for men, "My Foundation, along with other partners, have been undertaking participatory, human-centered design research collectively covering six countries. A critical finding from this work is the urgent need to rapidly scale up men's access to and engagement in HIV testing and treatment services." Encouragingly, the UNAIDS 2018–2019 budget highlights the need to provide differentiated services and promote health seeking behaviors among men to fill this gap, with targeted efforts highlighted in Kenya, Uganda, and Swaziland. What makes proactively engaging boys and men challenging, but crucial, is the way it reckons with entrenched cultural and gender norms that men and women face:


Over the last two years, Dalberg Design has explored innovative sexual and reproductive health solutions using human-centered design methods on three continents and across nine countries—Botswana, Lesotho, South Africa, Nigeria, Uganda, India, Mexico, Peru, Argentina— with a variety of partners, including the Elton John AIDS Foundation, The Global Fund, and USAID. Our teams have immersed in the lives of nearly 500 young women and over 300 young men. From shadowing to role-playing, collaborative design workshops to candid girl-talk sessions, Dalberg Design has used human-centered design methods to better understand the real life challenges and aspirations of young people and how those things intersect (or not) with youth sexual and reproductive health.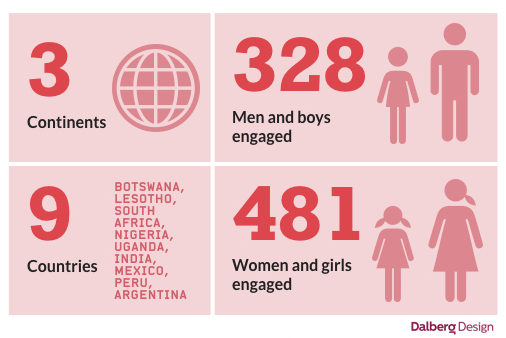 How can we support boys and young men? In this brief and illustrative report, we share a summary of collective insights gathered across several projects and geographies in relation to male engagement in HIV programming, education, and services. We highlight five areas that are crucial to understand as we design new products, services, and interventions that resonate with young men.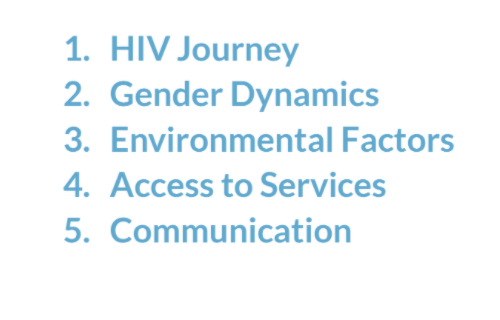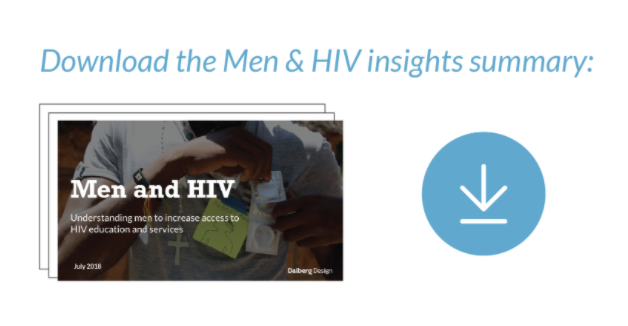 These insights are starting points for conversations about what it means to design for men. From HIV self-testing to community messaging, the landscape is rife with opportunities to bring men into SRH conversations so that they can become boosters instead of barriers. For example, in a project introducing new female-controlled HIV prevention options, we navigated the tension between promoting women's ownership of SRH choices and the potential backlash of male partners who may react harshly, or worse, violently, when they are not informed or included in such decisions.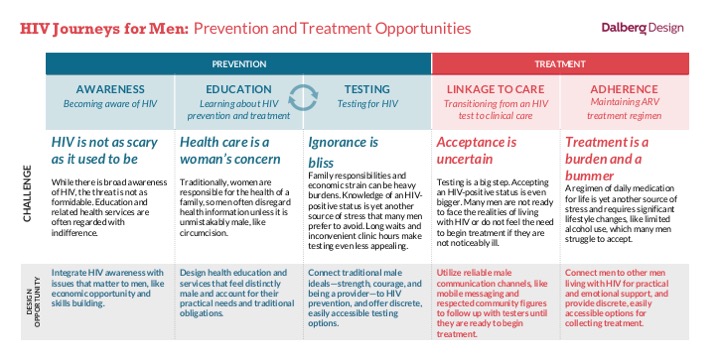 While in Lesotho investigating how to better engage young people in HIV prevention, we learned first hand some of the male perspectives that drive the gendered HIV-testing gap. As one young man shared, "Only one partner needs to test for the both of us." These reactions tell us that in order to prevent new cases of HIV among men and women, we must close the gender gap and shift male mindsets on HIV prevention and partner protection.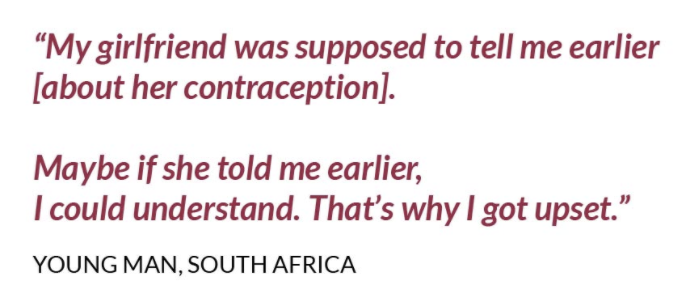 As designers, we are asking ourselves what it means to design with men and for men, a group notoriously hard to reach and whose health-seeking behaviors are limited. Luckily, we have been fortunate to work with local male (and female)partners who have helped us bridge this chasm and craft new ways to start hard conversations. As we all confront the harsh realities of the slow progress to prevention, the world is challenged to look at HIV efforts more holistically. Human-centered design, when coupled with best practices in behavioral and implementation science, offers a chance to experiment with new ways to reach and support this critical population.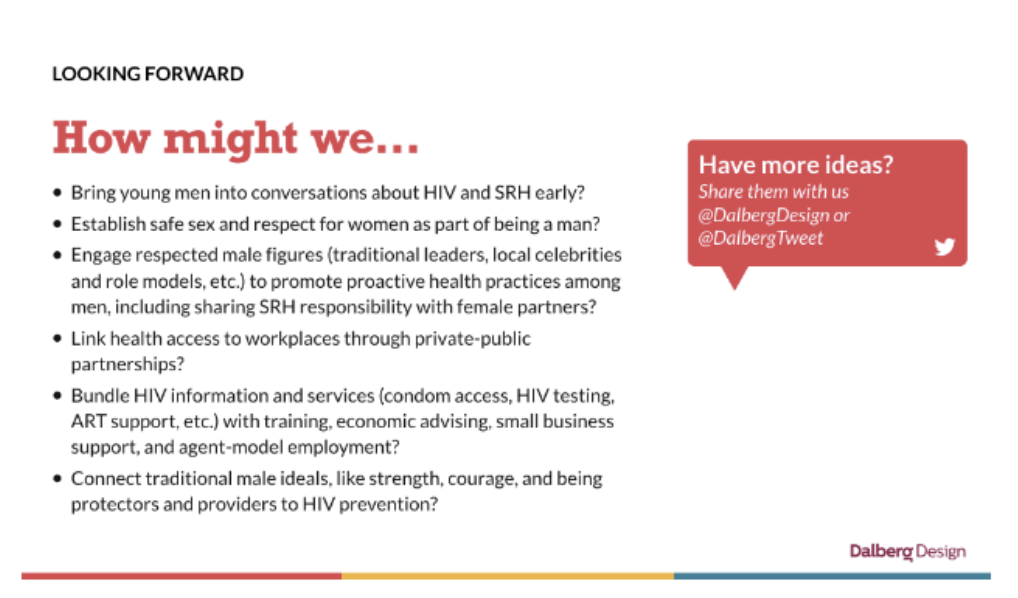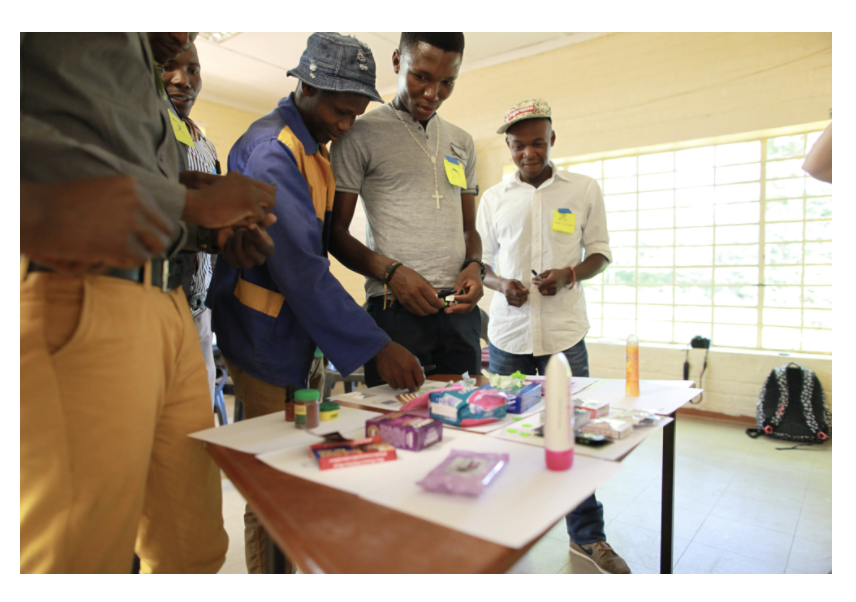 Have other ideas and reflections? Share them with us at @DalbergDesign and @DalbergTweet.
Special thanks to the gregarious and wise men we've collaborated with in Lesotho, South Africa, and Uganda as human-centered design research collaborators ––David Mothibeli, Thabo Mothibeli, Moses Kigozi, Mandla Ntuli, and Smanga Ntshele.