In recent years, Kenya has established itself as a centre for innovation, with a range of initiatives started in support of this culture. Incubators such as Nailab, iLab and iHub provide space for entrepreneurs to interact, bud and thrive. It's from such incubators that a range of successful tech-based start-ups across sectors have led to the emergence of Kenya's 'Silicon Savanna'. In July 2015, in acknowledgement of the rising significance of entrepreneurship to the economy, the Kenyan and United States governments co-hosted the sixth annual Global Entrepreneurship Summit in Nairobi. The 2015 summit, which Dalberg helped organize, focused on generating new investments in entrepreneurs, particularly women and the youth. Furthermore, in the last two years the country has seen renowned entrepreneurs like Mark Zuckerberg and Jack Ma visit the country to identify ways in which they can get involved in the Kenyan entrepreneurial space and share insights from their entrepreneurial journey with individuals aiming to achieve similar success.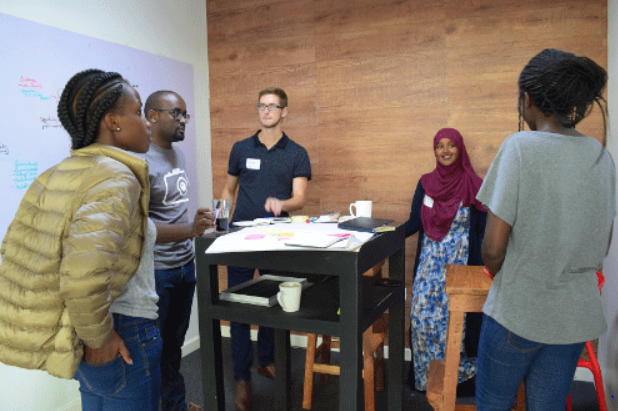 Working with SMEs has always been a focal point of Dalberg's work. Recognising that entrepreneurship holds a lot of potential for solving societal problems, promoting job creation and driving economic growth, Dalberg Nairobi launched an initiative to support the start-up community. The founding team; Susan Oguya, Kenneth Scheffler, Kristen Schlott, Naoko Koyama, Yuko Hirose, Angela Gachui, Dhruti Shah and Benson Ngene, dubbed the initiative 'Start-up Saturdays'. It is a platform that aims to support promising start-ups, in the city, identify key challenges in their operations, particularly, as relates to catering to the different customer types they encounter in the course of their business. As Susan Oguya explains:
"Entrepreneurs need strong support and advisory systems to turn their ideas into valuable businesses. In Kenya, these SMEs support 45% of the economy, therefore, supporting entrepreneurship is essential for the development and improvement of our lives. It catalyses the ability of the bright and ambitious minds of entrepreneurs to turn their break-through ideas into successful companies with purpose, driven by their vision. By supporting entrepreneurs, we support innovation."
Kenneth Scheffler adds that:
"In Nairobi, we're surrounded by lots of entrepreneurs with big ideas, passion, and an understanding of the markets they serve. There was a desire within the firm to tap into this entrepreneurial energy and share some of the strategy and design tools we tend to use with more established clients to organizations that have not been exposed to them and could really benefit."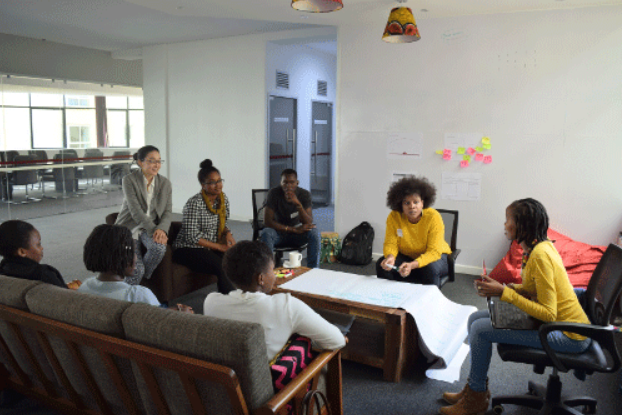 In the first Start-up Saturday held on May 13th, 2017, a group of volunteers from the Nairobi office facilitated a series of activities, focused on customer centricity, designed by the Dalberg Design Impact Group. The first cohort of start-ups, selected through a round of interviews, includes: KejaMove, a company started to tap into the growing house and office moving business; Hired Help, a cleaning services provider which enables households to get reliable and trustworthy house-helps through an online portal and; Ukall, a firm providing a digital platform that enables organizations to manage their mobile employees and act on data in real time. Some of the key challenges these companies wanted assistance addressing included low conversion rates, sub-optimal packaging of their offerings and lack of effective product enhancement strategies.
Throughout the day, the three technology start-ups were guided through problem definition, solution ideation and prioritization, and mapping of a solution-plan. The event kicked off with a session on 'Understanding Customer Centricity within Your Business' where they were taken through the basics of customer-centricity including how to identify their customers' needs, and understand their customer journey. This laid a foundation for the team deep-dives where they mapped out their challenges based on a customer centricity matrix, determined actions they needed to take per challenge, and noted the desired outcomes of those actions. The sessions were very engaging and eye-opening for the teams, and helped the teams uncover telling insights about their customers that will enable them to deliver their services better. The event was a general success ending with a cocktail session where the start-ups got a chance to interact and learn from each other.
Following the workshop, start-ups have been working towards implementing their solution-plans. They are pursuing the collaboratively defined approaches over a 4-month period with regular check-ins with their facilitators. At the end of the 4-months, the start-ups will reconvene at Dalberg to discuss progress to date as well as share learnings with other start-ups from incubators in Nairobi. The Start-up Saturdays team is excited to see the results of this effort, and to learn ways to better serve this community.