Once a vaccine is available, who will get it first, and how will distribution take place? A new collaboration is launched to support the equitable delivery of COVID-19 vaccines in low- and middle-income countries (LMICs).
In the midst of the pandemic, there is light at the end of the tunnel: Around the world, multiple vaccines are in Phase 3 trials, meaning the ability to inoculate against COVID-19 will likely be available soon.
But supplies will be limited, especially in the first months, and unprecedented global and local coordination will be required to reach the billions of people who will need the vaccine. Equity rests at the heart of these efforts: who will take the lead in ensuring fair allocation of vaccine supply, and how will this be operationalized?
This is where the COVID-19 Vaccine Equity Project steps in. Supported by the Skoll Foundation and launched by the Sabin Vaccine Institute (Sabin) in collaboration with Dalberg and JSI Research & Training Institute (JSI), the LMIC (Low- and Middle-Income Countries) focused project will consist of three phases designed to rapidly assess the vaccine distribution landscape, maximize learnings and scale a successful pilot to enable global delivery of vaccines.
Dalberg's role as one of the anchor partners in the COVID-19 Vaccine Equity Project is to help lead the global project management office. This involves working on the overall strategy, as well as expanding the partnership to include country governments. Dalberg will also seek to bring on additional capabilities and capacity to support countries based on their needs related to vaccine introduction, existing resource gaps, and technical assistance requirements.

A key part of Dalberg's focus will be to ensure that an equity lens is applied across the initiative—by ensuring efforts are driven by LMIC governments and communities, and by supporting governments and communities at their behest to protect the most vulnerable. Dalberg will also be working with an initial set of pilot countries across Latin America, Africa, and Asia.
"Lessons learned from previous pandemic response efforts, such as those for Ebola and H1N1, show us that one of the most effective, efficient, and equitable ways to serve population needs and save lives is to take a community-centered approach and mobilize country support beyond procurement," said Edwin Macharia, Dalberg's Global Managing Partner. "Dalberg is energized to join this core team alongside Sabin and JSI to develop vaccine strategies using a people-centered approach and move the needle closer to a more inclusive and sustainable world."
One of the most effective, efficient, and equitable ways to serve population needs and save lives is to take a community-centered approach and mobilize country support beyond procurement.

Edwin Macharia, Global Managing Partner, Dalberg
To deliver the program, Sabin's Boost Community, a network of over 1,000 immunization professionals, will invite members to participate in an advisory group and discussions as part of the project to ensure they're involved in decision-making. Dalberg provided support to Emergency Operation Centers during the 2013-2015 Ebola outbreak in West Africa, and this partnership will work with groups such as the Centers for Disease Control and Prevention in Africa to strengthen COVID-19 response efforts.
JSI will provide the technical support and strategic planning needed to scale the project around the world, based on the advisory role that they have played and their vast country experiences with new vaccine introductions over several decades (from rotavirus and HPV vaccines to special initiatives for H1N1, meningitis and other vaccines). JSI's insights and perspective on what is needed to achieve COVID-19 vaccination will contribute to efforts by Ministries of Health and in-country partners.
The COVID-19 Vaccine Equity Project complements the approach outlined in the COVAX Facility, a project from the World Health Organisation (WHO); the Coalition for Epidemic Preparedness Innovations (CEPI); and Gavi, the Vaccine Alliance; aiming to ensure fair allocation of vaccine supply. Dalberg is managing the Project Management Office for the COVAX Facility, supporting the WHO and UNICEF in ensuring countries are prepared for and manage the introduction of future COVID-19 vaccines and integrate these vaccines into their immunization programs in the long term.
Across all of its COVID-19 response efforts, Dalberg seeks to uphold its mission of building a more inclusive and sustainable world where all people, everywhere can reach their fullest potential. As the pandemic unfolds, Dalberg is coming together with a diverse range of partners to undertake initiatives—like COVID-19 Vaccine Equity Project and the Covax Facility—to mitigate the most serious effects of the crisis for vulnerable communities around the globe.

The COVID-19 Vaccine Equity Project will periodically update its progress below.
---
Q1 2021 PROJECT UPDATE
Equity in Process: Participatory Approaches to Identifying Country Needs
To realize fair outcomes for COVID-19 vaccine introduction, global, regional, and country responses need to do more than secure vaccines and prioritize populations. Efforts must drive toward realistic planning and preparedness for sustainably integrating COVID-19 vaccines into country-level EPI programs. In our experience, the most effective way to do this is by deeply involving decision-makers and stakeholders in countries and communities in the planning, execution, and decision-making process.
Since October 2020, the COVID-19 Vaccine Equity Project has engaged with 107 sub-national and national immunization professionals from 50 countries, gathering valuable input that has informed our approach to country engagement and country support offerings. These immunization professionals helped us create more equitable vaccine distribution approaches by engaging through the Boost Community, answering the Country Needs Analysis Survey, and participating in the Co-creating Equitable Approaches to COVID-19 Vaccine delivery webinar.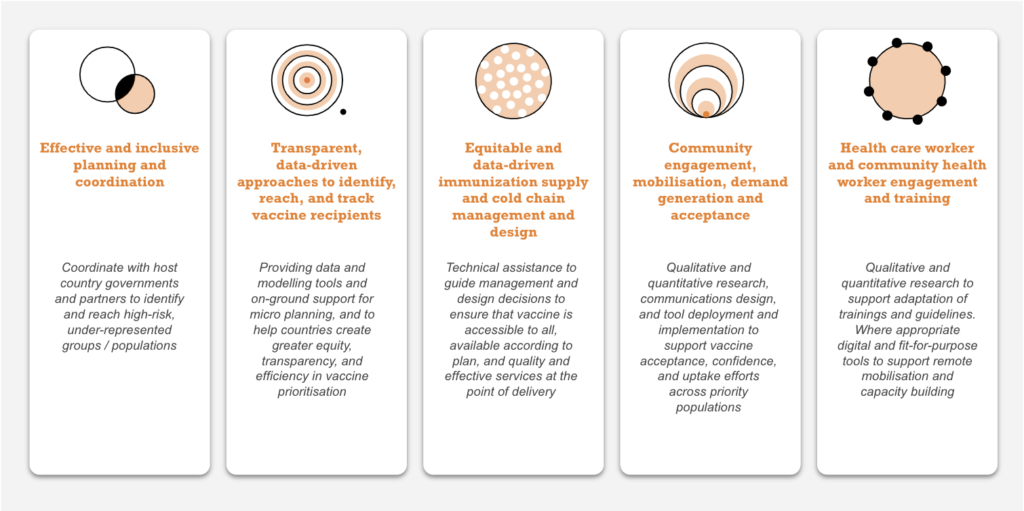 Through this highly participatory process, the COVID-19 Vaccine Equity Project identified 5 areas that would benefit from additional country-level support to ensure equitable vaccine delivery and uptake, including support for:
Effective and inclusive planning, knowledge management, and coordination
Transparent, data-driven approaches to identify, reach, track and follow up with vaccine recipients
Equitable and data driven immunization supply and cold chain management and design
Community engagement, mobilization, demand generation, and acceptance
Health care worker and community health worker engagement and training
To learn more about our approach and the 5 equity areas, explore this brief presentation that provides a description of the current challenges and support the COVID-19 Vaccine Equity Project can provide to countries to ensure equity when delivering and distributing the COVID-19 vaccine.
In 2021, we will continue to refine our offerings and approach while working with our initial pilot countries Ecuador, Kenya, and Nepal — and continue to engage with global immunization professionals. The project's intention is to scale across 16 more countries and in turn, provide country governments and health systems direct technical assistance across the 5 key equity areas identified above.
Additionally, we will develop adaptable global Covid-19 vaccine preparedness guidance and establish a community of practice to broaden the project's reach. Furthermore, we will continue to grow our network of private and public sector partners to help scale our approaches and the ability to rapidly deploy the right set of capabilities, contextual expertise, and networks to make meaningful impact towards equitable access to COVID-19 vaccines.
If you are working with country governments (e.g. EPI focal point, EOC, NITAG members), are an implementing partner, private sector actor, or donor and are interested in partnership, please get in touch at: info@vaccineequity.org
RESOURCES
Learn more about the COVID-19 Vaccine Equity Project: https://www.vaccineequity.org/
Learn more about the COVAX Facility:
https://www.who.int/initiatives/act-accelerator/covax

Learn more about Dalberg's COVID-19 response efforts: https://dalberg.com/covid-updates/